Prof. Weber Delivers Opening Keynote at ICEC 2018 in China
At the 20th anniversary of the International Conference on Electronic Commerce in Tianjin, China, Prof. Weber was accorded the honor to deliver the opening plenary address. In his speech, he discussed the question "Is there New Economics in the Sharing Economy?" providing an overview of current results and interesting future research directions in the domain of collaborative consumption. Prof. Weber has been also invited to co-edit a special issue of the Elsevier journal Electronic Commerce Research and Applications (5-year Impact-Factor: 3.181) with papers developed from selected conference contributions.

Keynote Abstract: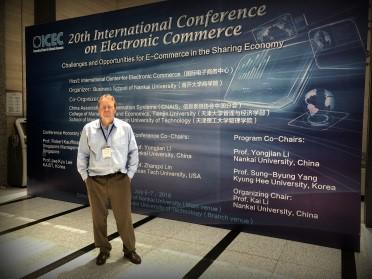 Sharing is an age-old practice among creatures. Recently it has come into focus as a way to capitalize on gains from trade in a new access-based economy, promoted by intermediaries such as AirBnB or Uber. We provide an overview of the key issues when jointly using finite resources and discuss how to evaluate the efficiency of shared allocations. We also show how the practice of collaborative consumption may impact economic insights derived in a traditional ownership economy. This includes first- and second-order effects on the market participants' incentives, and fresh regulatory options as this new paradigm of consumption unfolds.
---
---