PocketCampus for iPhone and iPod touch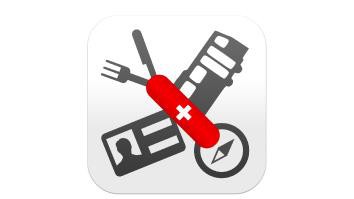 PocketCampus is EPFL's mobile phone application for students, collaborators, and visitors and, starting today, it is available for the iPhone and iPod touch. The iPhone version follows last year's successful release of PocketCampus for Android devices, an application being used by more than a thousand users.

The application is an indispensable assistant for anyone who is around EPFL's campus: it tells you when you have to leave home to get to class on time, gives you easy access to your coursework, shows today's best lunch menu on campus, displays your Camipro card balance and transactions, searches through EPFL's people directory, pinpoints the location of any room on campus, and pulls in the latest EPFL news.
There are more metro stops in your life than just EPFL and home, and managing them is not easy. PocketCampus features a smart transportation system that automatically picks the bus or metro station from your list of stations that is closest to you, so you can just take out your phone and see when you have to hop on the bus to get to any of your destinations.
Coursework used to mean a heavy backpack. PocketCampus makes your coursework light and digital, reachable in a few clicks. You can log in to Moodle, download today's lectures slides, and revise them while taking the metro back home.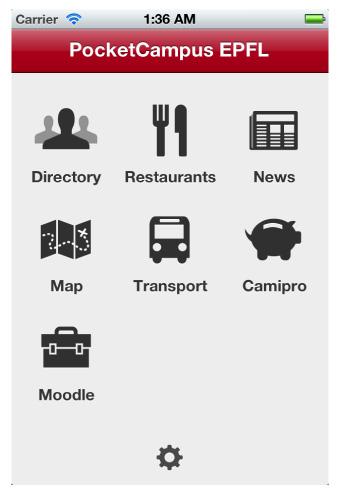 As a new student, but even after a few years, the EPFL campus feels like a giant maze. PocketCampus knows all about where each classroom and everyone's office is and displays them on a detailed map, automatically selecting the right floor. Now, you won't get lost anymore.
There is a multitude of restaurants, cafeterias, and food stands at EPFL, offering a wide variety of dishes, but only one can be the best. With PocketCampus, lunch goers can rate the food they ate, and everyone can benefit from this crowdsourced rating system: you can browse today's offering, see which dish is best rated, and contribute your vote to establish the champion. Menu Michelin anyone?
The Camipro card is your EPFL identity card, and one of its uses is to pay for food, coffee, printing, or cookies. If you have enough money. You can use PocketCampus to easily check your Camipro balance. You can even have statistics on your average monthly expenses.
These are just some of the features present in this new EPFL app. There are more waiting for you to discover them for free, on the App Store for Apple devices and on Google Play for Android devices.
PocketCampus is entirely developed by EPFL students, for EPFL students, and it is generously supported by EPFL VPAA, Google, and Apple. Visit the PocketCampus website for more information.
---
Author:
The PocketCampus Team