Philippe Caroff joins QSE Center as Executive Director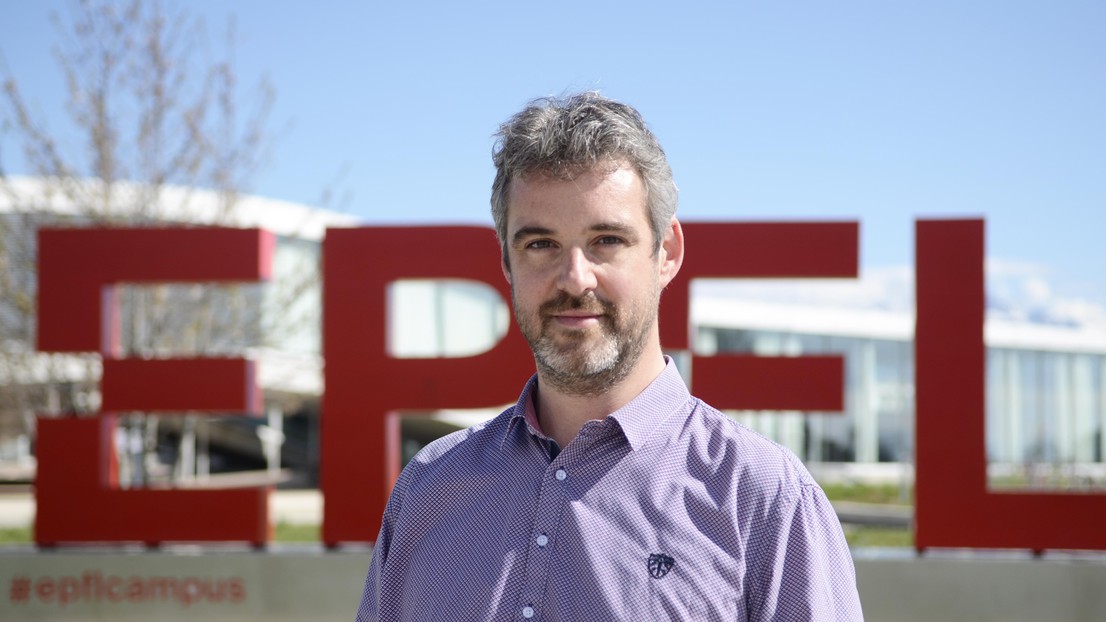 Philippe Caroff began his tenure as Executive Director of the EPFL Center for Quantum Science and Engineering (QSE) in March 2022. With a background in industry, most recently as Principal Research Manager at Microsoft Quantum, Caroff looks forward to bridging the gap between academia and industry, and sharing the 'fantastic' world of quantum with the wider public.

EPFL's QSE Center, which began operations in the fall of 2021, was created to support professors and students in the quantum field by building partnerships in quantum research across campus as well as with other Swiss universities and with industry. To fill the position of Executive Director for the new center, Philippe Caroff, who has extensive experience in both academia and industry as well as a background working in diverse and international environments, was a natural choice.
"Philippe is a highly recognized research manager with long-standing expertise in the area of quantum," says Vincenzo Savona, the QSE Center's Academic Director. "He brings amazing ideas to EPFL that will make the QSE Center thrive."
When Caroff first learned about the QSE Center at EPFL and saw that they were hiring an Executive Director, he knew it was just the challenge he was looking for. The opportunity to come to EPFL and take on a role that will touch on many different aspects of the quantum world was not one he could pass up.
"Working with blend of stakeholders ranging from students to researchers and industry professionals is something I look forward to," Caroff says.
Acting as a bridge
One of the QSE Center's main objectives is to bridge the worlds of academia and industry in the field of quantum research. Caroff, with his experience in both worlds, will be able to bridge these different professional cultures by looking at situations from multiple perspectives and understanding the motivations of the different actors. In this way, he can act as something of a translator, and facilitate important partnerships that will benefit everyone involved.
"It will require understanding and meeting their different needs to the best of my abilities, and finding the best ways of collaborating," Caroff says.
The chance to work directly with a variety of people is especially appealing to him. He looks forward to meeting his new colleagues at EPFL and building networks that will benefit the QSE Center, as well as the EPFL community and the wider field of quantum. Caroff is also focused on helping find original ways to secure funding and on being an active force in creating new funding opportunities for both researchers and students. And he's excited for the QSE Center to serve the student community, especially in connection with the newly created Master's in Quantum Science and Engineering, initiated by researchers from the QSE Center.
"This sense of serving the community at large in this ecosystem and being an active force is something that I am very enthusiastic about."
Part of the revolution
Caroff's first connection to quantum started while he was working as a Post-Doctoral Fellow at Lund University in Sweden when he created materials called indium antimonide nanowires. These materials have ideal electronic properties for building a topological quantum computer, which has the potential to be inherently more robust than a standard quantum computer.
After working on the university side, when the opportunity to work in industry came along, it felt like a natural evolution and an exciting next step in a growing field. He took a leading role at Microsoft, where he worked on growing crystal networks that combined both semiconductor and superconductor properties, enabling engineers to build larger scale quantum computers. These crystals would serve as the active materials making up quantum bit (qubit) devices to keep the qubits naturally protected against outside noise, meaning the qubits would need less error correction.
"I followed this incredible emerging field by fascination for what it promises," Caroff says. "Being part of this, what some people call the second quantum revolution, this explosion of real applications harnessing the most fundamental quantum properties, is a chance of a lifetime for scientists and all the people who contribute."
Caroff wants to make sure especially that the field of quantum is diverse and inclusive, and welcoming to everyone of all genders, sexual orientations, ethnicities, and abilities. And he wants the general public to feel as excited about this growing field of quantum as he is.
"We can help make quantum more approachable, to make sure that this fundamental science is properly communicated. The public doesn't always feel that it is for them."
Communicating quantum
Indeed, quantum science, especially when it comes to quantum computing, suffers from a communication problem. Depending on what you read, quantum will either solve all of our problems or is just false promises. The real answer, however, is that while there are still a lot of unknowns in this field, it is also very promising and exciting, a message that Caroff wants to share far and wide.
"At the moment, some people still think of quantum technologies as science fiction, but now we are going from promises to the real world. How can you not be interested in these kinds of things?"
He sees the role of universities, and of the QSE Center in particular, as being to educate and communicate responsibly on what is already happening in the quantum world.
"There is no need to exaggerate," he says, "because what is there is already fantastic! It's strange, and it works!"
---
---