"Our proteins were used to develop a new COVID-19 serology test"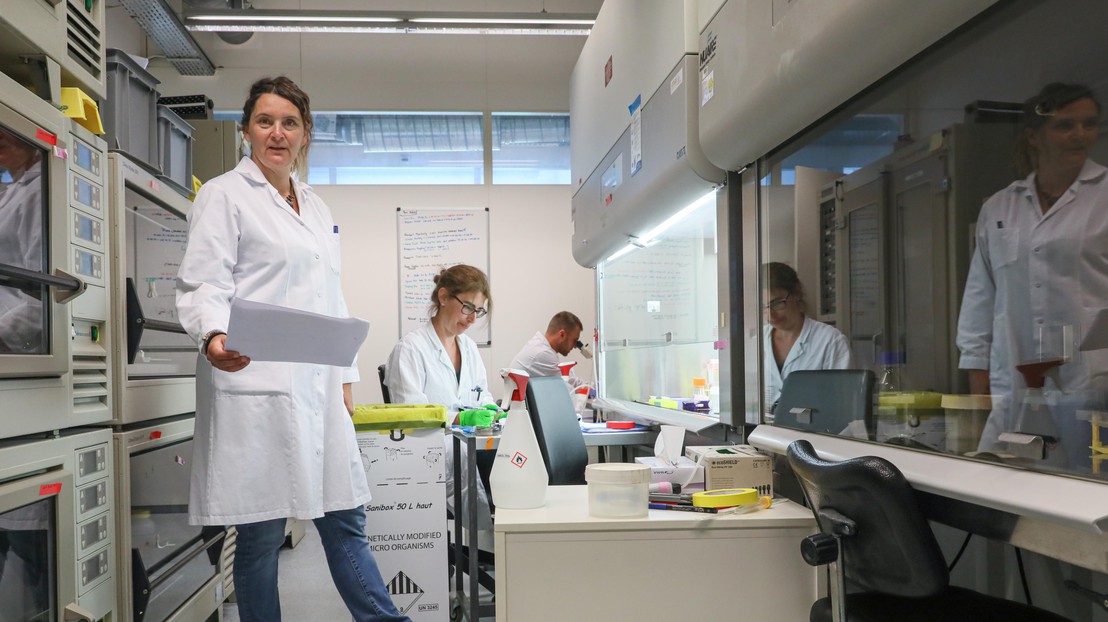 Since the start of the COVID-19 pandemic, scientists at EPFL's Protein Production and Structure Core Facility (PTPSP) have been producing and purifying SARS-CoV-2 proteins for use in Swiss research. Head of unit Dr. Florence Pojer explains how her team has been operating in these unprecedented times.

EPFL's Protein Production and Structure Core Facility (PTPSP) purifies and characterizes various types of protein for laboratories throughout Switzerland. "We act as a sort of hub," says head of unit Florence Pojer. "We're the only facility in the country that produces mammalian cell proteins on a large scale, thanks to the huge expertise of Dr. David Hacker." When the COVID-19 crisis struck in mid-March and Pojer's team was preparing to mothball the lab, she got a call asking if she could produce proteins for use in research into the virus. "We immediately switched our machines back on," she explains. "The first few milligrams of SARS-CoV-2 proteins were ready by the end of March." By studying the proteins, scientists are able to identify the virus's weak spots for potential targeting by drugs and vaccines. A team at Lausanne University Hospital (CHUV), working in partnership with the Swiss Vaccine Research Institute, also recently developed a new, "highly sensitive" COVID-19 serology test using proteins supplied by the PTPSP.
The PTPSP spent the past two months producing and purifying the spike proteins that allow the SARS-CoV-2 virus to bind to and enter our cells. These proteins were used to develop serology tests for a trial at CHUV and the University Hospital Zurich. "In normal times, these high-grade proteins would be extremely expensive," says Pojer. "But with the support of EPFL's School of Life Sciences (SV), we were able to supply them free of charge to research laboratories throughout Switzerland." The PTPSP also, in collaboration with Pierre Cosson's team at the University of Geneva (UNIGE), helped producing antibodies, working, as well as other types of SARS-CoV-2 protein for use in drug research. "Initially, there were just three of us on campus," adds Pojer. "Then three more researchers were allowed back on site. It's great to be surrounded by such a strong team – especially colleague like Dr. Kelvin Lau – during such trying times."
What was the biggest challenge Pojer faced during the lockdown? "Getting the proteins to the EPFL post office before it closed at noon," she answers with a smile. "On a more serious note, the hardest part was juggling the competing demands of working on campus, looking after my children at home, and cooking meals for a household of six. I'm grateful for the way the School of Life Sciences handled the crisis, not least the fact that we were allowed to focus on family and home life."
A new normal
In normal times, the PTPSP has a second purpose: to help, advise and connect research in protein sciences and integrative structural biology. "At the moment, we're split into two groups," says Pojer. "But our team is versatile enough to keep handling all aspects of our work." Trainees are back on campus, the lab's instruments have reopened to outside users, and Bachelor's projects will be restarting at the end of June. For Pojer, it's been a challenging yet rewarding experience. "We're a close-knit team," she explains. "Some of the new partnerships we've developed will last beyond the crisis."
---
---