Naïg Chenais receives the Prix Retina 2022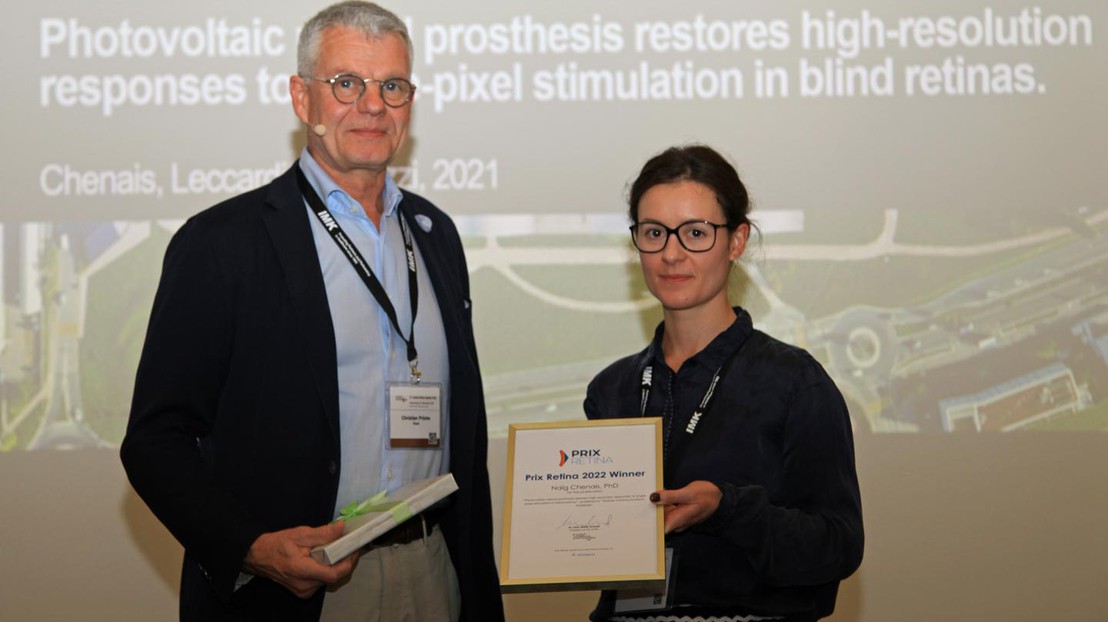 Bioengineering and sensory neuroscience researcher Naïg Chenais has been selected to receive the Prix Retina of the Swiss VitreoRetinal Group SVRG for her "exceptional" work on retinal implants.

Currently a postdoctoral fellow at the Vision Institute, Paris, Chenais was honored for a paper she developed while doing her PhD research under the supervision of Diego Ghezzi at the Medtronic Chair in Neuroengineering, Center for Neuroprosthetics and Institute of Bioengineering, in the School of Engineering (STI).
Chenais' work, which was also featured in the STI article "A retinal implant that is more effective against blindness", describes a new rollable artificial retinal implant that requires a smaller incision than currently available implants. Thanks to its photovoltaic technology, it does not require an external energy source. The resolution of 10,000 pixels corresponds approximately to that of the peripheral retina, and the field of vision is at least twice as large as that of other implants on the market.
Funding
The Novartis-sponsored Retina Prize of CHF15,000 is awarded by the SVRG for the published work of young researchers in Switzerland or of Swiss nationality. Chenais shares this year's award with Markus Masek (Zurich).
References
Chenais, N.A.L., Airaghi Leccardi, M.J.I. & Ghezzi, D. Photovoltaic retinal prosthesis restores high-resolution responses to single-pixel stimulation in blind retinas. Commun Mater 2, 28 (2021). https://doi.org/10.1038/s43246-021-00133-2
---