Model Acceptance Test for Yang Fang Gou hydropowerplant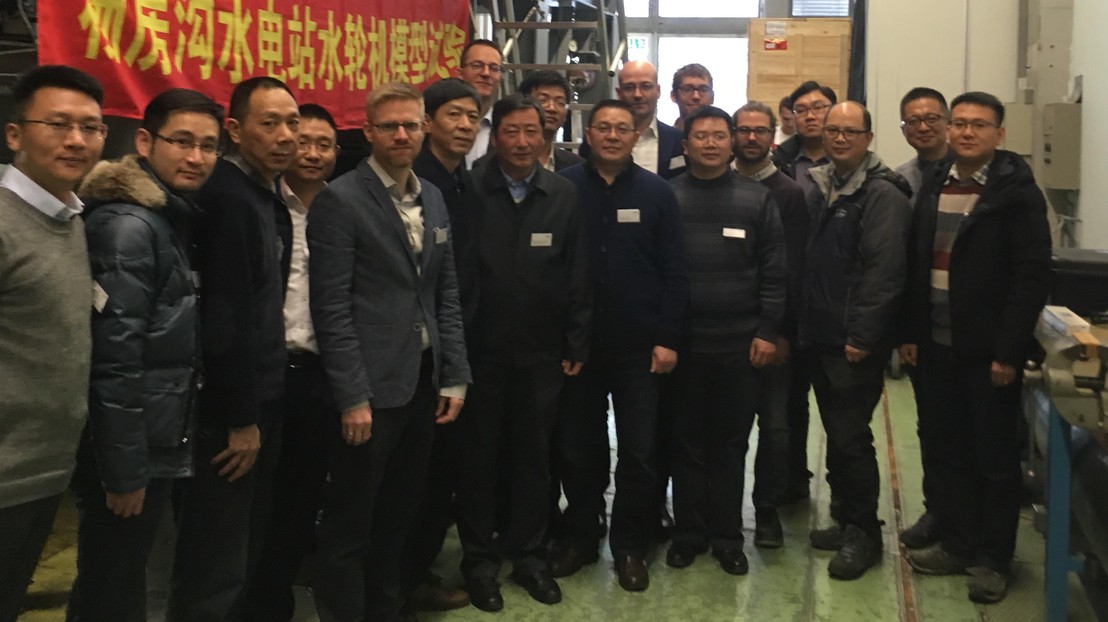 EPFL-LMH is hosting a delegation of 15 people from China and Germany repreenting Yalong River Hydropower Development Company, Ltd. and Voith Hydro witnessing the reduced scale physical model acceptance test of a Francis turbine designed by Voith Hydro for Yang Fang Gou hydropowerplant.

Yangfanggou Hydroelectric Project is the 6th of the 7 middle reach projects, with an installed capacity of 1,500 MW. When operated jointly with the controlling reservoir of Lianghekou, it will have a capacity of yearly regulation. The project complex mainly consists of a double-curvature concrete arch dam, spillway and dissipation structures, and headrace and power house systems.
Preparatory works for the project began in 2011, and the target is to have the project approved by the Government in 2015.
Voith is in charge of the development and manufacturing of the Francis turbines. The acceptance test is performed on the Test Rig PF2 of the Laboratory for Hydraulic Machines in Lausanne (Switzerland) during March 2018.
The machine chararcteristics are as follows:
Runner Type: Francis
Rated Capacity: 1530 MW (4 x 382.8 MW)
Turbine Manufacturer: Voith
Rated Head: 99 m
Prototype runner diameter: 6.7 m
Prototype rotation speed: 107.14 rpm
Model runner diameter: 0.36 m
Model scale factor: 18.6


---