Michele De Palma wins ERC Consolidator Grant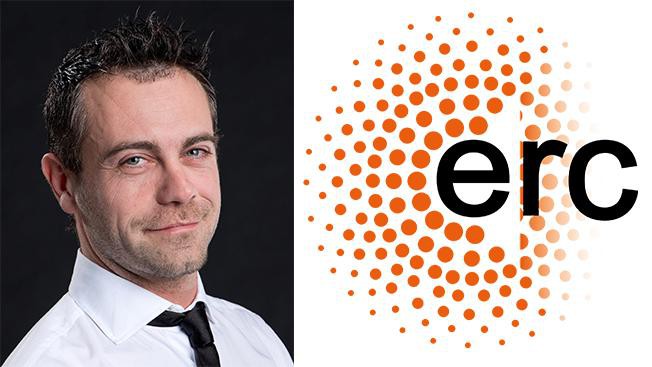 Michele De Palma has been awarded an ERC Consolidator Grant.

The European Research Council's (ERC) Consolidator Grants are given annually to researchers of any nationality with 7-12 years of research experience after completion of their PhD, as well as "a scientific track record showing scientific talent and an excellent research proposal". The Consolidator Grants, which generally provide funding for 5 years, are part of the ERC's commitment to support "the highest quality research in Europe with competition-based financing", with the ultimate aim "to establish and solidify European research as cutting-edge research."
Professor Michele De Palma at EPFL's Swiss Institute of Experimental Cancer Research has been awarded an ERC consolidator grant to develop a new generation of dendritic cell vaccines for cancer therapy. 
The title of the project is: Extracellular Vesicle-Internalizing Receptors (EVIRs) for Cancer ImmunoGeneTherapy. The goal of the project (EVirs to Optimize and Leverage Vaccines for cancer Eradication; EVOLVE) is to propel the development of effective dendritic cell-based tumor vaccines using an innovative strategy that overcomes several key hurdles associated with available treatments.
EVOLVE puts forward a novel dendritic cell engineering platform whereby chimeric receptors are used to both enable the specific and efficient uptake of cancer-derived extracellular vesicles (EVs) into dendritic cells, and to promote the cross-presentation of EV-associated tumor antigens for stimulating anti-tumor immunity. EVOLVE also envisions a combination of ancillary 'outside of the box' interventions, primarily based on further dendritic cell engineering combined with innovative pre-conditioning of the tumor microenvironment, to facilitate the deployment of effective dendritic cell-driven, T-cell-mediated anti-tumor immunity.
Further to preclinical trials in mouse models of breast cancer and melanoma, the new dendritic cell platform will be used to prospectively identify novel tumor antigens and reactive T cell clones for broader immunotherapy applications.
The Consolidator Grant follows Professor De Palma's ERC Starting Grant that he won in 2009.
---