Low-tech device lets students show handwritten notes online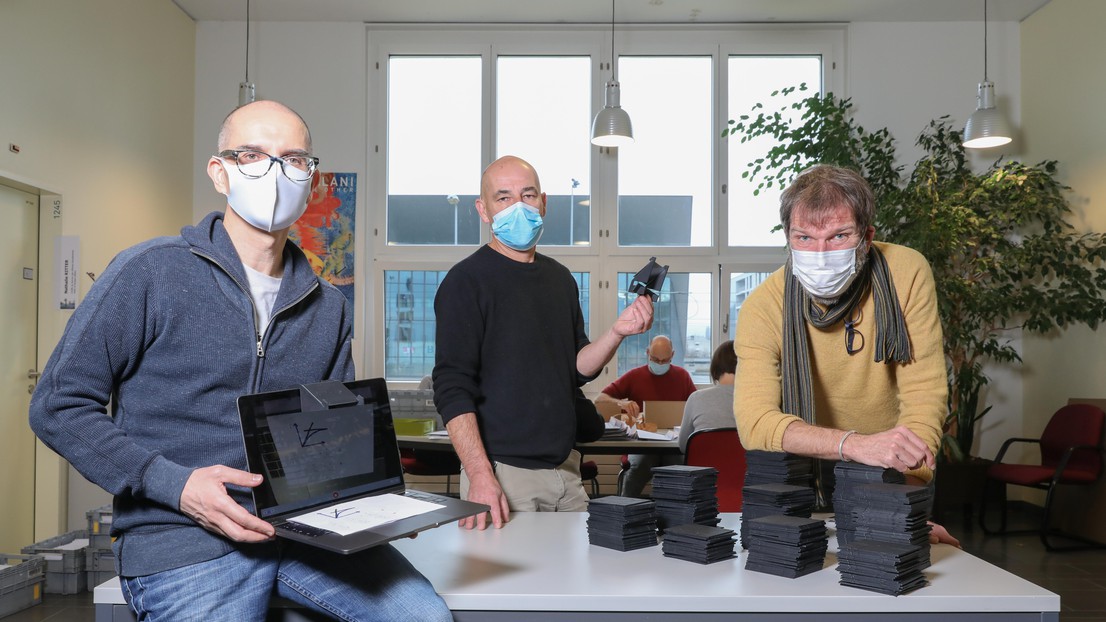 Around 2,000 students will take oral exams online during the upcoming winter session and will need to show their handwritten diagrams and mathematical calculations. And to do that, they'll soon receive a device designed and manufactured at EPFL.

On 17 December, some 2,000 EPFL students were sent a kit containing three pieces of cardboard and a 7x8 cm plastic mirror to assemble and attach to the top of their laptops. This low-tech device was developed by EPFL's Center for Digital Education (CEDE) and Teaching Support Center (CAPE), in association with the School's modeling workshop, so that the students can show their handwritten notes during online oral exams.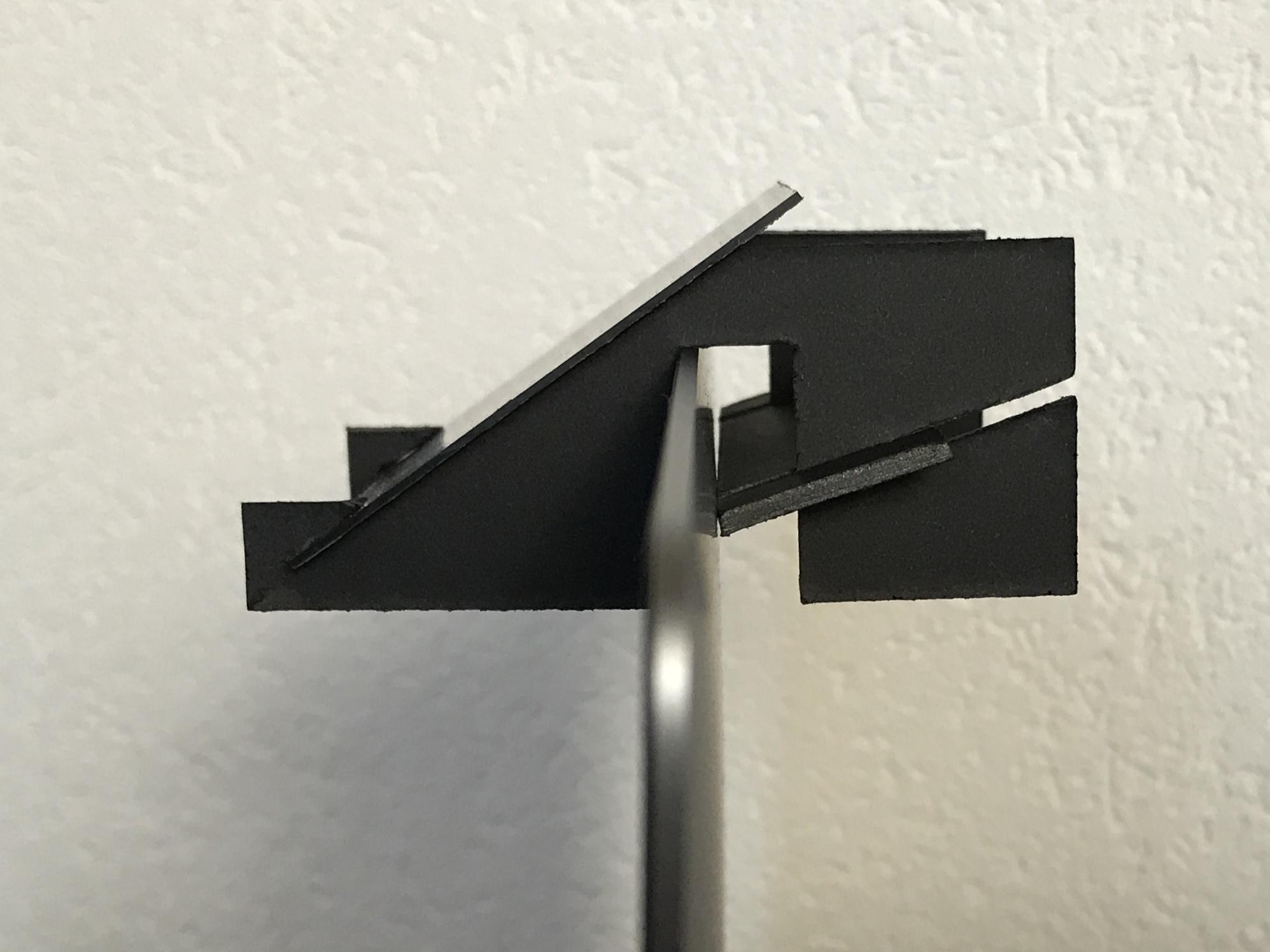 For their exams, the aspiring engineers will be asked to reason out problems mathematically and draw diagrams, meaning they will need to be able to show their handwritten work to their teachers. "Some students may find our low-tech approach amusing," says Patrick Jermann, head of CEDE. "We tested out many other options – from an iPad Pro and a graphics tablet to a system that lets you hang your smartphone above a sheet of paper – but this low-cost, locally made device proved to be the most effective." It was designed by Gilles Raimond, a media systems engineer at CEDE who was in charge of testing out the various options, along with Antoine Gagliardi, the head of EPFL's modeling workshop. Together they came up with the idea for this economical device that's quick to make and easy to assemble.
How it works
Once students get the kit, they will have to assemble the device, attach it to their laptops and then download a free image-flipping app (Miroir for Windows, Photo booth for Mac or Cheese for Linux). When they're in their Zoom meeting for the oral exam, they will need to open the app and share their screen. CEDE and CAPE have created a video explaining how to use their device and giving some tips. For instance, they suggest covering your laptop keyboard with a hardcover book and placing the paper you will write on horizontally on top of the book. They also suggest you use black ink and white paper, avoid pastel colors, and make sure the light in the room is not too bright (to prevent shadows and glare on the paper).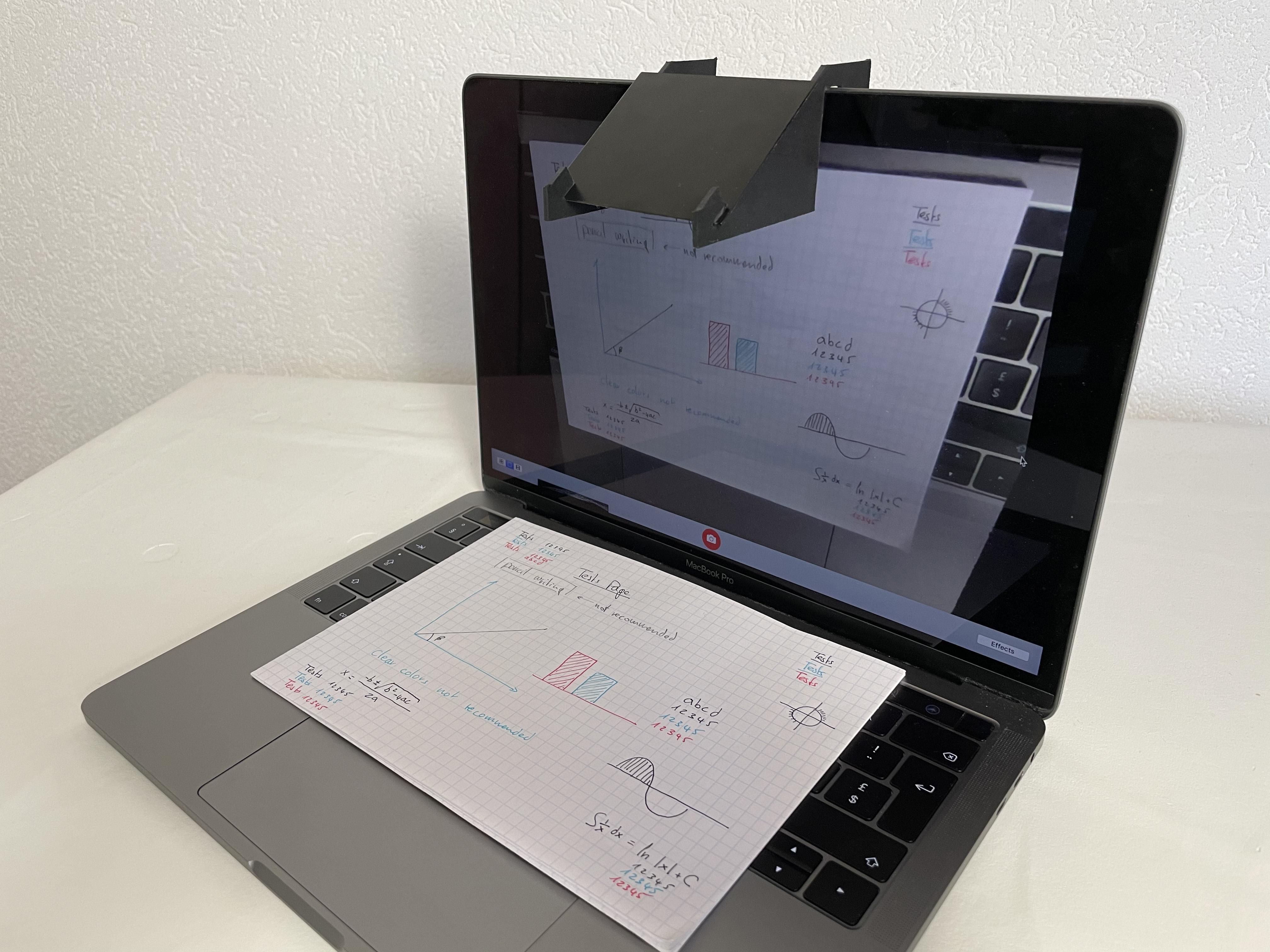 The smartphone option
Students who don't receive the kit in time or would rather use another method can share their handwritten notes via their smartphone. They'll need to place it on a stack of books (or other flat surface) around 30 cm high. When they open the Zoom meeting on their computer, they'll also need to join it with their smartphone – with the sound turned off to prevent feedback – and place the smartphone horizontally on the stack of books so that the paper they're writing on can easily be seen. This video explains this method and the best way to use your smartphone.
Students can choose whichever method they prefer, or they can use another one if they wish. But teachers cannot require a method other than one of the two above. In any case, you should carry out a test run before your exam so that you are at ease when you take notes – and to avoid any unwelcome surprises.
---
---