LauzHack, a marathon of creativity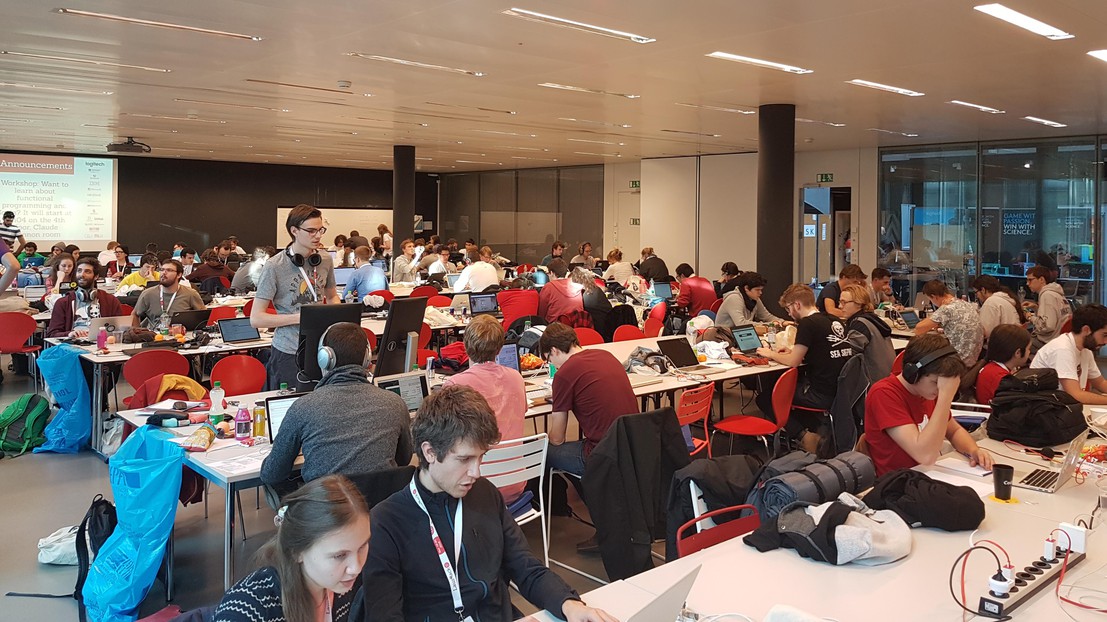 Over the weekend 200 students from all over Europe came to EPFL to work on amazing projects during LauzHack, a hackathon organized by IC students.

Creativity unleashed
The hackathon phenomenon took EPFL by storm this past weekend. The event, which involved teams of student computer programmers collaborating intensively during a short period of time to develop software, brought together participants from all over Europe.
Despite its negative connotation, hacking refers to creating quick solutions to problems. In order to proceed, the participants were given access to a wide selection of technologies and data sets, provided by the generous sponsors. These included a food database, chat robots that automatically answer questions using artificial intelligence, and sensors which detect events, such as temperature changes or movement in the environment.
The participants were only allowed 24h to imagine, to prototype and to develop their projects, using in some cases previously unknown technologies. Despite these constraints, the results developed were as diverse, as they were interesting and useful. The projects presented included blocking fake news on Facebook, finding healthy alternatives to packaged food, estimating train delays based on weather conditions, and removing the shadows of clouds from aerial pictures.
Innovative winning projects
A panel of ten judges, including EPFL professors, alumni and representatives of the industry, had to make a difficult choice between the 53 projects to select the most creative, innovative and impressive solutions. During the closing ceremony, Martin Vetterli, Professor and future President of EPFL, awarded the winners of the best projects. Additional prizes were awarded to projects that best used the technologies provided by the sponsors.
The winning team built a clothing tag scanner, which allows the user to find the instructions for washing a piece of clothing, even when the tag is removed. The winning project selected by the sponsors, aims to enhance role-playing games by the use of tiny sensors, triggering events when people or objects are brought together. The organizers' favorite solution was an application to scan a food product's barcode to indicate the presence of allergens.
"It was an amazing weekend", said Aurélien, an EPFL student. "I'm really looking forward to being back next year", said Utkrist, a student from Germany. By the end of the hackathon, the tired but happy participants were unanimously celebrating the success of the event.
The full list of projects, including the winners, can be found here.
For further information about LauzHack, please visit the website.
---
Authors:
Solal Pirelli,
Inka Sayed