IGM Colloquium: Transition to turbulence in Couette-Poiseuille flow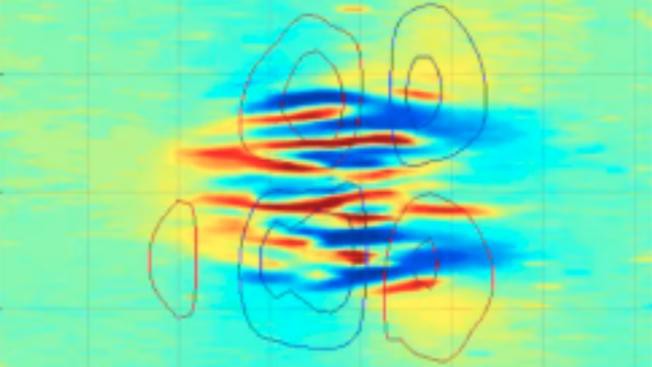 We study the subcritical transition to turbulence in the plane Couette-Poiseuille shear flow with zero mean advection velocity. 

Our new experimental configuration consists on one moving wall of the test section (the second one remains stationary), which acts like a driving force for the flow, imposing linear streamwise velocity profile (Couette) and adverse pressure gradient in the streamwise direction (Poiseuille) at the same time.
This flow is always linearly stable. The transition to turbulence is forced by a very well controlled finite-size perturbation by injection, into the test section, of a water jet during a very short time.
With fluid visualization we characterized the mains spatial patterns during transition, including spots and bands.
Using PIV technique, we characterized quantitatively the initial development of the triggered turbulent spot and compared its energy evolution with the theoretical predictions of the transient growth theory.
In addition, we show results concerning the importance of nonlinearities, when waviness of streaks in streamwise direction induced self-sustained process in the turbulent spot.
We also measured precisely the large-scale flow which is generated around the turbulent spot and studied its strength as a function of the Reynolds number.
Bio :
Jose Eduardo WESFREID a une Maîtrise en Physique de l'Université de Buenos Aires et un Doctorat d'Etat ès Sciences Physiques, à l'Université de Paris Sud-Orsay (Etude de la convection de Rayleigh-Bénard au voisinage du seuil de convection, sous la direction de Pierre Bergé)
En 1984, il entre au CNRS (Centre National de la Recherche Scientifique), tout d'abord en qualité de Chargé de Recherche, puis de Directeur de Recherche de 2ème puis 1ère Classe (1990 à 2009) et ensuite de Classe Exceptionnelle en 2010.
Il assume, de 2001 à 2011, la direction du Laboratoire de Physique et Mécanique des Milieux Hétérogènes (PMMH) à l'Ecole Supérieure de Physique et Chimie de la Ville de Paris (Unité Mixte CNRS-ESPCI) en faisant venir des équipes et chercheurs de très haut niveau. Il a dirigé 32 thèses de doctorat.
Il est nommé Directeur de Recherche Emérite au CNRS en 2011.
Il reçut, au cours de sa carrière, plusieurs distinctions, en particulier, le Prix BRELOT de la Société Française de Physique (1984), le Prix EDMOND BRUN de l'Académie des Sciences (2007), le Prix RAICES du Ministère de la Science d'Argentine (2011), la Médaille du Sénat (2015) et est nommé Fellow de l'American Physical Society (2013).
Son activité de recherche s'est centrée sur la Mécanique des Fluides et en particulier, sur les instabilités hydrodynamiques, le chaos et la turbulence, comprenant l'étude de l'ordre temporel et spatial issu des instabilités et inspiré par des idées et méthodes de la physique des transitions de phases thermodynamiques. Ses travaux de recherche son de caractère fondamental mais également a participé, en collaboration avec le monde industriel, à des recherches sur les économies d'énergie.
Event:

---
---