"I see myself as creating bonds"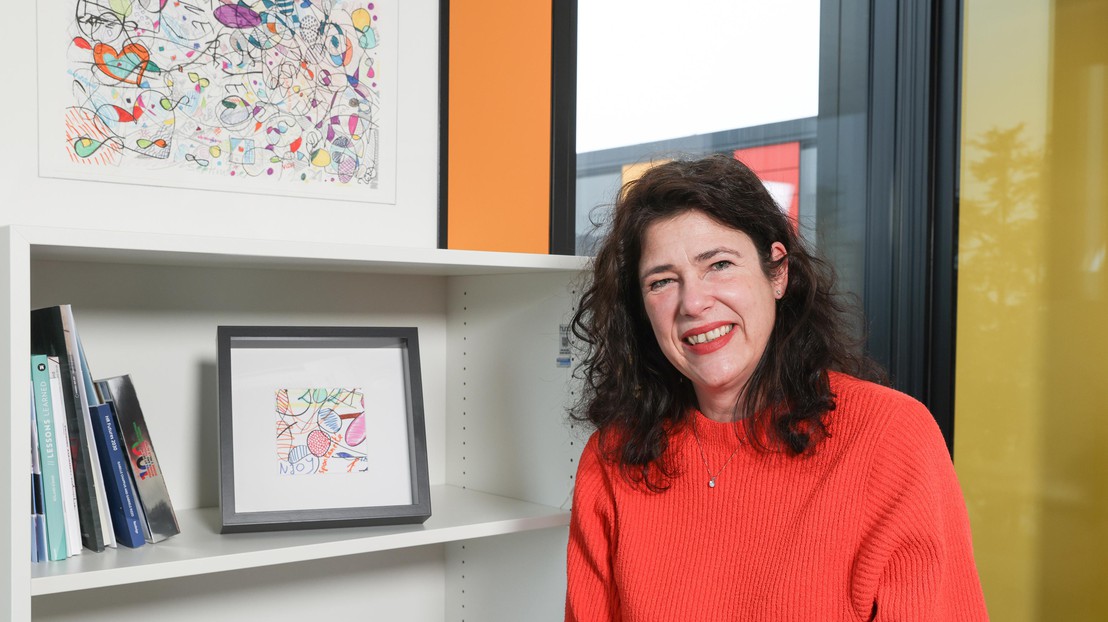 Claudia Noth became EPFL's director of human resources right at the start of the pandemic. She spoke with us about her career, experience, values, lessons learned and enthusiasm for the work she does.

Claudia Noth joined EPFL on 1 April 2020 – just 18 days after Covid forced everyone into lockdown. "I am someone who really likes contact with people, who likes to build relationships and maintain them over time," she says. "Doing that via a computer screen was a huge challenge! It was strange getting to know an environment as complex as EPFL's through only virtual interactions." Yet, despite having to start her new job remotely, Claudia ensured that the HR team was able to keep supporting EPFL employees throughout this difficult time and, more generally, looked after the well-being of the EPFL community.
"What really helped was the special kindness of my colleagues," she recalls. "I found that people were highly committed and have a strong sense of belonging to EPFL – much more so than what I had seen at the institutions I had previously worked for. I was also impressed by how concerned people were for all members of EPFL's community and for the well-being of the different groups. That is what prompted us to introduce the Selfcare and Teamcare initiatives, for instance." What also really struck Claudia was the think-out-of-the-box attitude at EPFL. She has been working closely with all segments of the EPFL community since she came into office, including the student body, should it be through the Covid Commission or the Harassment A–Z initiative.
"I got into human resources almost by chance"
A native of East Germany, Claudia always felt a strong desire to learn about other cultures. "I have a genuine interest for other people, their values and how they think," she says. Studying languages was the best way she found to pursue this passion. Then the Berlin Wall fell, which for the young student meant being able to travel abroad. "I finished my studies, because I see languages as an asset for communicating and creating connections." She went to London and then to Geneva to complete her linguistic education. She also obtained a diploma to teach German. She extended her six-month stay in Geneva several times, ultimately taking up residence. Her first job was as a training manager at Mercer, a large HR consulting firm, where she quickly got involved in assignments spanning all aspects of HR. "I got into human resources almost by chance, but I have stayed out of conviction," she says.
Claudia went on to obtain an MBA, after which she worked for ten years in banking and almost as long in manufacturing before joining EPFL. Her resumé also includes professional certifications as board member and master coach. "My education and training have supplied me with a toolkit which I use every day." Her next learning objective is to better understand how digital technology is transforming the workplace so she can optimize its benefits for employees and the organization. "The question is no longer whether the digital transformation will happen, but what price will we pay – mainly in terms of talent and employer branding – if we wait too long."
We need to cultivate diversity and encourage it. And here I am referring not only to gender equality, but to diversity in its own right
Championing values
Claudia Noth describes herself as an energetic woman who defends values rather than a fighter - "you can convince much better by bringing others on board" she says. Diversity is one of her core values: "We need to cultivate diversity and encourage it. And here I am referring not only to gender equality, but to diversity in its own right. It is what lets us avoid blind spots in our thinking," she says. Career guidance is also high on her agenda. "I believe it is important to encourage career paths that do not restrict graduates to a single direction. We need to give students an education that provides them with the versatility to change directions throughout their careers." These are the words of not just an HR expert, but also a mom with two kids in college. Another of Claudia's core values is caring-daring-sharing. "This means taking care of employees and helping them take care of themselves; giving people the courage to speak up and to ask constructive questions with a respectful attitude as well as promoting the sharing of knowledge across fields."
In her position at EPFL, Claudia Noth sees herself as creating bonds. "HR's role at EPFL is to establish the conditions for our School to carry out its missions as effectively as possible and for employees to contribute in an environment that is conducive to their well-being," she says. "This also applies to my own department," she adds, which is still largely working from home, as are many other EPFL units. Is this what is in store for the future of work? "It is all about getting the right balance, trust and responsibility. I really believe in the benefits of a hybrid model; employees should be able to work in the way that is best suited to a given activity. If I want to meet people and create connections, it makes more sense to do that in person. On the other hand, if I have to prepare for a meeting or presentation, I can do that from anywhere at the time of my choice, provided that I have uninterrupted time on my own to concentrate. If I can do that from home – saving me the commuting time and reducing my carbon footprint – then why not? And if I can also pick up my kids at the station, that is even better!"
A decompression chamber
There is still the issue of not letting work creep in when office hours are technically over. That is not easy when you lead a department of over 50 people serving some 6'300 employees. "I love my job – but I love my family even more! Unplugging at the end of the day is key to leading a healthy lifestyle. To do that, you need a decompression chamber," Claudia explains. "When I work in the office, the way home gives me that transition. When I work at home, it is walking down the stairs. At the end of the day, I turn off my computer and go downstairs to be with my family. Some days it is harder to unplug than others, so I have to make a conscious effort." In her downtime, Claudia also recharges her batteries through stone sculpture and painting. She has even managed to share such an experience with her colleagues, as witnessed by the paintings in her office that were created during a team-building event with the entire HR staff.
Accolades in Switzerland and abroad
Claudia Noth's expertise and professional skills have been recognized by several top-tier organizations. She was selected to be a judge in the 2022 Swiss HR Awards, for the "HR Trends – Remote Work" category. She was also awarded in 2021 the title of HR Leader of Distinction by HRO Today.
---