High School Students Discover Chemistry & Materials Science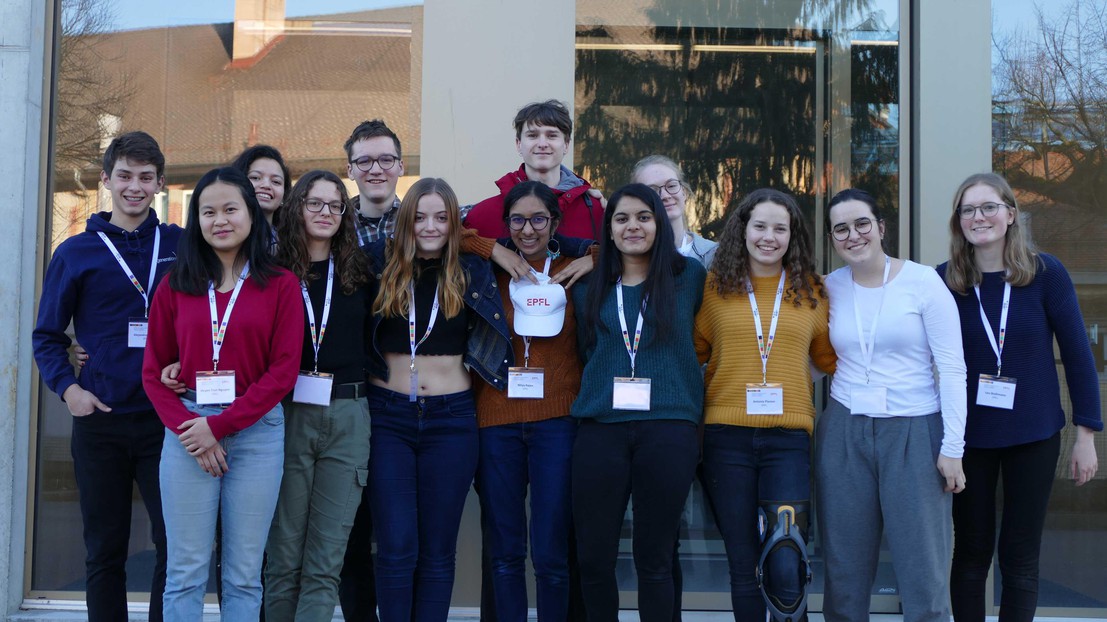 During the first week of February, 15 high school students from all around Switzerland had the opportunity to conduct research in the fields of chemistry and materials science in the labs of EPFL, the Swiss Federal Institute of Technology Lausanne.

This unique experience was organized by Swiss Youth in Science (SYiS; in German: Schweizer Jugend forscht), in collaboration with EPFL and the Universities of Basel, Fribourg and Geneva. Such study weeks, which are offered several times a year by EPFL through its Education Outreach Department, allow highly motivated students aged 16 to 20 to gain insight into scientific research. High school students Joelle, Désirée, Martino and Alejandro were part of the adventure.
The study weeks are a chance to step out of the classroom and discover research beyond classic higher secondary teaching. "I had some background information in chemistry from school, like the reactions and the patterns, I already knew that. But I didn't know all the practical aspects, for example how to synthetize and how the machine works exactly", explains Joelle, a 3rd year high school student from Solothurn. Désirée, a high school student from Lugano, as well as Joelle spent the week on the Valais EPFL campus in Sion. Both are delighted to add that, during their experience, "filling a small machine withliquid hydrogen, which created snow, was pretty cool". Alejandro, a 4th year high school student from Solothurn, shares this positive impression: "My topic was based on subjects I had studied in school. I knew materials science was about creating new materials, but I didn't know exactly what it would look like. This week was more than I expected. I knew that we were going to work in a laboratory, but I didn't know how exactly. To experience working in a real laboratory with real PhD students, that was a nice experience."
"It's a laboratory, so you can do things with your own hands, not just learn and study. But Do."
Martino, 3rd year high school student from Lugano
And doing concrete work was a real challenge for the students, as explained by Martino: "First thing first. It was difficult! But really interesting. It was more than interesting!" The challenge was obviously worth it, as "The highlight for me was when I finished my project. Until then, there had been this puzzle in my head and when I finished my project, I was able to put all the pieces together." For Alejandro, the highlight was to feel like a proper higher education student: "I really felt part of the whole lab team. The PhD students, who are 10 years older than me, were so kind and open. They really helped me a lot, so that is my best impression of the week."
The study week project also aims at creating a bridge between the different linguistic and cultural regions of Switzerland. "I liked Lausanne, I think it's a really nice city for students, because there are a lot of students and a lot of opportunities. It was great!" explains Martino. A feeling shared by Alejandro: "It was a very nice experience to see Lausanne. I think that from what I saw and from the people I talked to, Lausanne would be a really interesting city to study in. And I am willing to learn French. I like French, my French is all right … I would survive!", he adds, laughing.
During the closing event that took place at the University of Fribourg on Friday, the high school students were given the chance to present their projects to the other students, as well as the general public. This was a successful ending to their study week, which might indeed be a turning point in their future choices.
For more information: bachelor.epfl.ch 






---
Author:
Education Outreach Department
---