Fusebox: The ideas are in, and the winners have been chosen …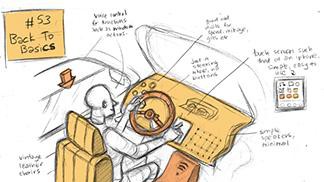 The first challenge put forward by the open idea platform Fusebox was to rethink the interior of the car of the future. The jury has deliberated, and the most innovative ideas have been selected and their contributors awarded.

Getting a workout while behind the wheel, a do-it-yourself car interior, a streamlined interior with clear controls, cars that are connected to each other so they can socialize on the road, car-sharing vehicles that can be personalized by their occupants – these are the five most promising ideas that emerged from the first open innovation challenge launched by EPFL in October 2013 in collaboration with PSA Peugeot Citroën. These five winning ideas will be developed by the French automobile manufacturer in collaboration with EPFL.

Starting from the premise that twenty years from now cars will undoubtedly be far more than simply a means to get from point A to point B, EPFL invited the entire campus community – including alumni and those working in the EPFL Innovation Park – to get their thinking caps on and come up with a design for the car of the future. Five hundred people signed up on the Fusebox platform and 178 ideas were submitted, resulting in a veritable avalanche of comments and votes. The jury has made its decision; the 25 authors and contributors to the five most innovative ideas, along with seven individuals who made outstanding efforts, have been selected. They will receive their awards during the contest's closing ceremony on December 5, 2013.

The five winning ideas

#1 "Tomorrow's Gym"
"Get a workout behind the wheel: row, pedal under the seat, use detachable devices. Stay fit and stay awake during long trips. This physical activity can even help power the car! Workouts are displayed on a screen. The steering wheel can be retracted and the seat can be transformed into an exercise machine," by Nicholas Molyneaux, ENAC student.
Contributors: Véronique Bauler, Winnaretta Zina Singer, Julien Ghaye, Thomas Cibils, Catherine Gasnier, Marko Smiljkovic, Igor Ayrton.

#53 "Back to Basics"
"Get back to a basic car interior by keeping only what's really needed. Return to fundamentals with streamlined interiors and clear, easy-to-use controls," by Gael Lederrey, SB student.
Contributors: Thibault Castells, Fabrice Dupray, Adnan Chatila, Frédéric Moix.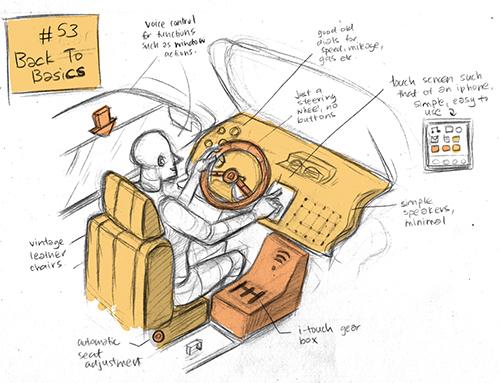 #73 «IK(E)AR"
"A car with do-it-yourself parts that can be made using 3D printers opens up an infinite range of possibilities to personalize a car's interior: replace old parts, improve ergonomy, choose materials and seats (passenger vs driver)," by Marcel Gyger, SV senior scientist.
Contributors: Nicolas Pierret, Frédéric Moix.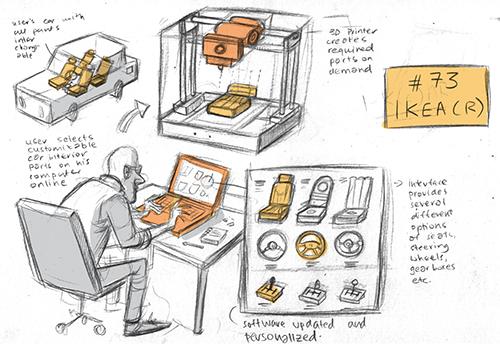 #114 "Connected Group Trip"
"Several cars traveling together can stay in constant communication with each other in real time. Make calls to the other cars to communicate your location, share the same music. Each car can be dedicated to a particular activity, such as sleeping or eating, and take turns with each. The idea could also be extended to connect vehicles whose occupants don't initially know each other, like a "social network in the car," – looking for people who are going to the same destination," by Jean Luc Kalmus, IC student.
Contributors: Quentin Fabien, Dorian Marchal, Adnan Chatila, Nicolas Pierret.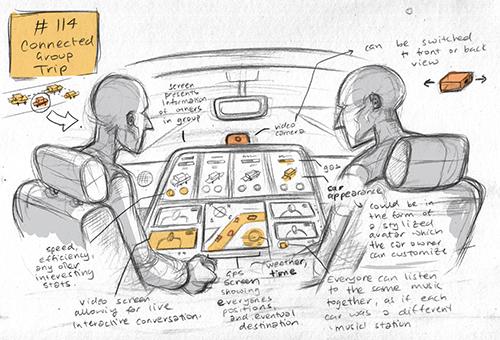 #123 "Shared but Personalized Car"
"Vehicles available for car-sharing are by definition impersonal. Personalize the interior of these cars for the length of a trip, using a smartphone, for example, to adjust the seats, rear-view mirror, music, and climate control," by Laurent Perrinjaquet, EPFL alumnus.
Contributors: Anne-Muriel Brouet, Georges Darrer.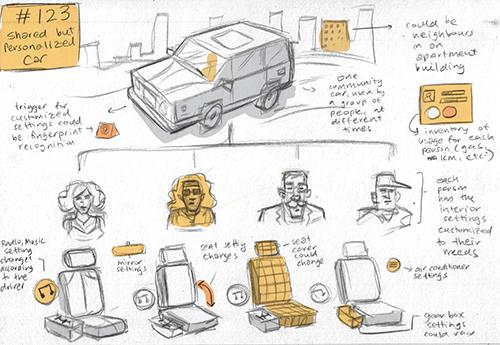 The following contributors are recognized for their particular efforts during this challenge, gaining the most points:
1. Quentin Fabien (512 points)
2. Dorian Marchal (386 points)
3. Nanja Strecker (280 points)
4. Thibault Castells (238 points)
5. Luis Munier (237 points)
6. Daniel Mange (231 points)
7. Pascal Coderay (223 points)

Many thanks to all the participants, the five members of the jury, PSA Peugeot Citroën for this first challenge, and to Alcoa Foundation for their financial support in this initial phase of the project.

Stay tuned for new challenges to be announced in 2014!
---
---