Fondation d'entreprise Hermès - Skills Academy : Morning session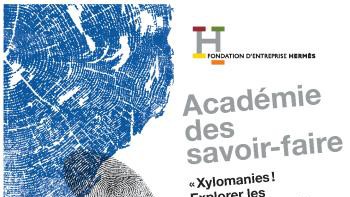 Invited by the Fondation d'entreprise Hermès, Prof. Yves Weinand, took part on Saturday morning 5 April 2014 to Skills Academy/morning session 4 in Paris (Ecole du Louvre, auditorium). The event was opened to the public.


Following on from Materials and Techniques, this morning session looked at the latest innovations in wood-related. The Skills Academy's fourth morning session explored the wood-working techniques of tomorrow.
Round-table discussion moderated by Patrick Jouin, guest designer and Skills Academy programme director. With: Andreas Kleinschmit von Lengefeld, Innovation and Research director – FCBA (Institut Technologique Forêt Cellulose Bois – Construction Ameublement), Yves Weinand, architect, engineer, director of IBOIS Institut du bois – EPFL, Nicolas Henchoz, director of EPFL & ECAL LAB.
The Fondation d'entreprise Hermès supports artisans, artists and designers applying traditional skills and expertise to tomorrow's world and to this end created the Skills Academy biennial programme. The last biennial programm was dedicated to the transmission of artisan know-how and practice at the interface with other sectors such as design and engineering. As an experimental lab for new thinking in the field, the Academy's programm focuses on knowledge-sharing for innovation, creativity and sustainability. Every two years, the Foundation invites twenty artisans, designers and engineers to take part in public lectures and masterclasses, and a workshop devised by a leading guest designer. This edition was a real success, a large public was interested and was participating to this event around wood and innovation.
---
---