Dominique Perrault to light up Seoul's underground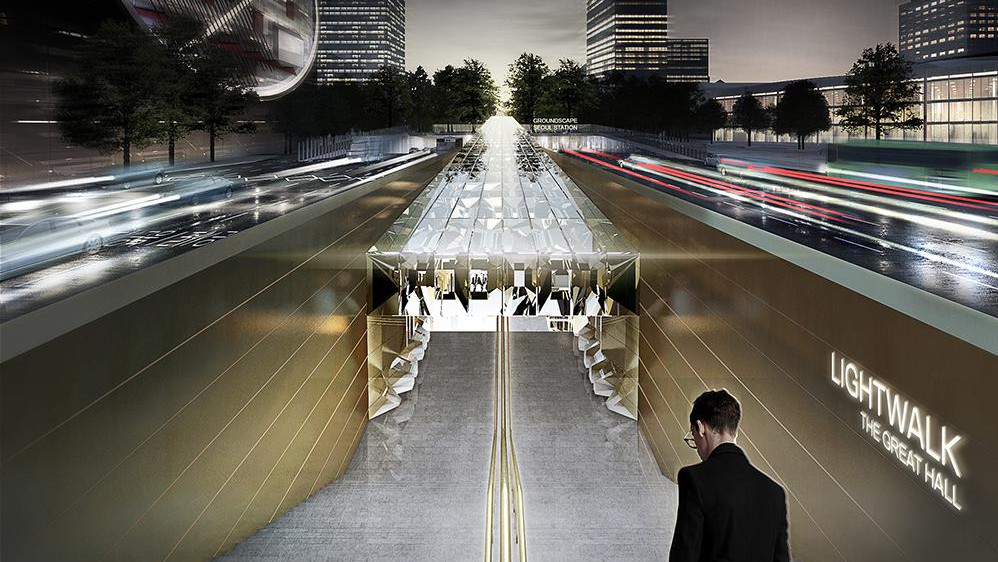 World-renowned architect and EPFL professor Dominique Perrault is set to build a large underground hub in the modern part of Seoul. The project is being touted as a subterranean work of art.

Dominique Perrault's architecture firm recently won an international competition launched by the city of Seoul, leaving no doubt that Perrault truly is the master of underground architecture. This EPFL professor and head of the school's Laboratory of Underground Architecture is always looking for ways to conquer the space beneath our feet.
Called Light Walk, the project will create a new transit center in the heart of Seoul, serving four train lines, two metro lines and a bus line and housing a bus station. But this covered pedestrian walkway is more than just a transport hub – it comes off as a form of land art. The underground gallery will be flooded with natural light from above, while the ground level will feature a greenery-filled park, a pedestrian walkway and modular spaces. The natural light below ground means that the space will be well-suited for housing offices, restaurants and art galleries. It's a monumental project, with a transport hub covering 95,000m2, a commercial space measuring 72,000m2 and a park spanning 32,000m2.
"This competition stems from an initiative by the current mayor of Seoul," says Perrault. "He asked the city's head architect to find areas that could be developed as public spaces – an initiative that is still rare in Asia. With Light Walk, we aim to create a meeting point for the different forms of public transport that serve people who live and work in this modern district of the city."
"Letting our buildings take root"
The underground gallery designed by Perrault has a glass roof and offers a new take on 19th-century covered galleries that will make people forget they are even underground. Light Walk therefore fully embodies the French architect's credo: "I think architecture should reach below the ground, letting our buildings take root and creating a purpose for this underground space that is neither functional, logistical nor technical. This new architecture should offer underground living spaces and create a dynamic that is at once urban, architectural and poetic."
Perrault thinks these types of galleries could easily be developed in other major cities with very dense transport links, such as Shanghai, Mexico City, Moscow and Paris: "It's like having the Gare de Lyon under the Champs-Elysées. The idea is to offer public transport users something truly majestic within the heart of the city." Perrault is thrilled to be presenting Light Walk with his EPFL students: "This type of project enables us to bring the ideas we develop in the classroom to an international level and enriches my interaction with students."
A simple project to address a complex situation
Perrault also recently took part in the Seoul Biennale of Architecture and Urbanism with his EPFL students. They developed a model underground gallery that is more experimental than Light Walk and that drew attention at the event (see our article published on 19 October 2017).
Hyungmin Pai, director of the Seoul Biennale as well as an architect and professor at Seoul University, provides some background and explains what Light Walk brings to the urban environment: "This big project is located in the Gangnam area of Seoul, the richest part of the city. Developed after the 1970s, Gangnam is filled with recently built high-rise towers, large apartment complexes, and boulevards dedicated to traffic. It is an area that lacks history and a sense of place. Everything is big but there is no monumentality. Light Walk addresses these issues by creating a modern, monumental public space. Like everything that Dominique Perrault does, the beauty and strength of the project, which obviously addresses a very complex situation, lies in its simplicity. This has always been one of his great capacities as an architect."

Comfort and hospitality
For the Korean architect, the hub designed by his French colleague also has the advantage of being both welcoming and hospitable, just as a transport station should be, regardless of whether it's located above or below ground. Hyungmin Pai: "This tradition has been lost in South Korea over the past 20 years, mainly because public transportation has been privatized, bringing chaos to what should be key public spaces within the city."
Construction work is set to begin in 2019, and Light Walk should open in 2023.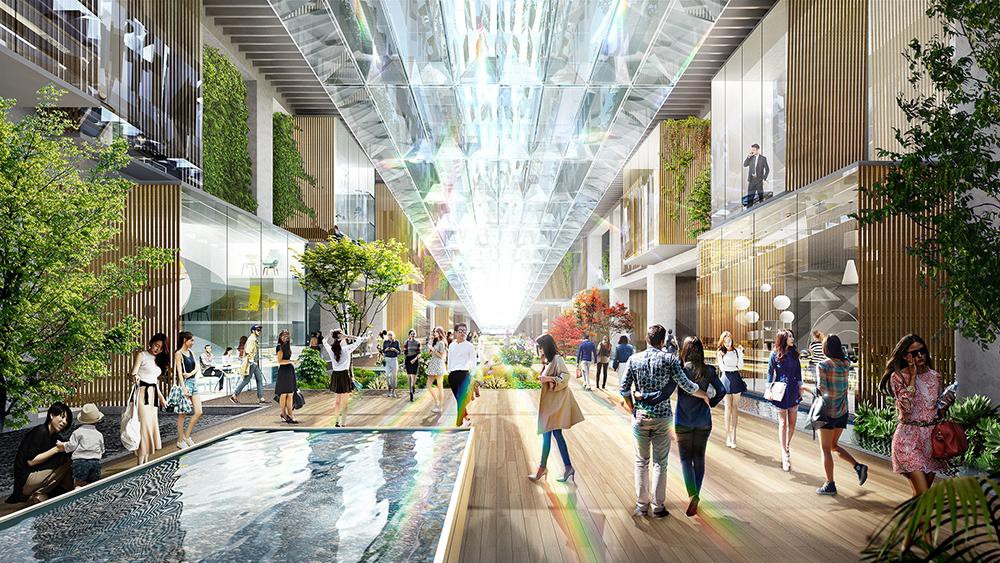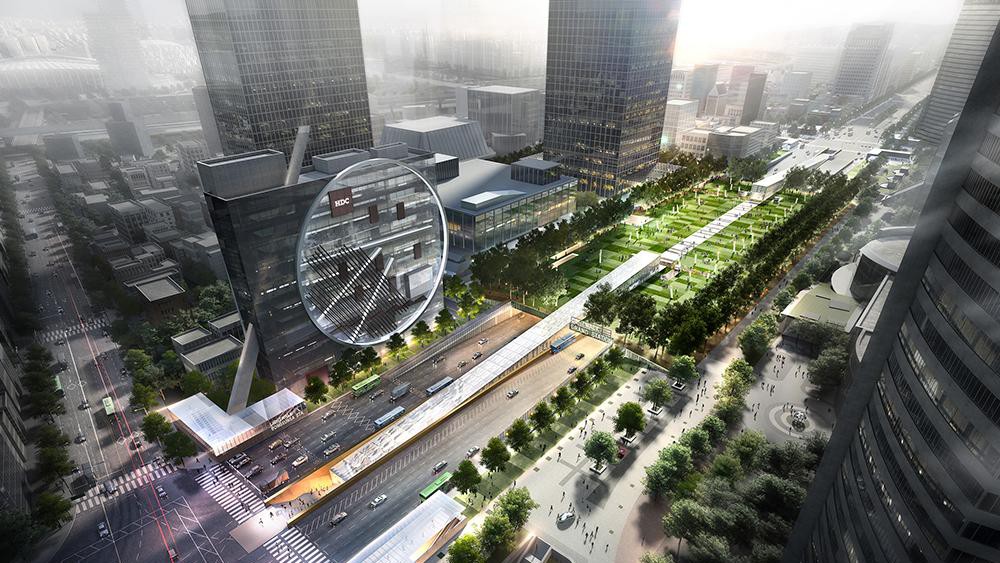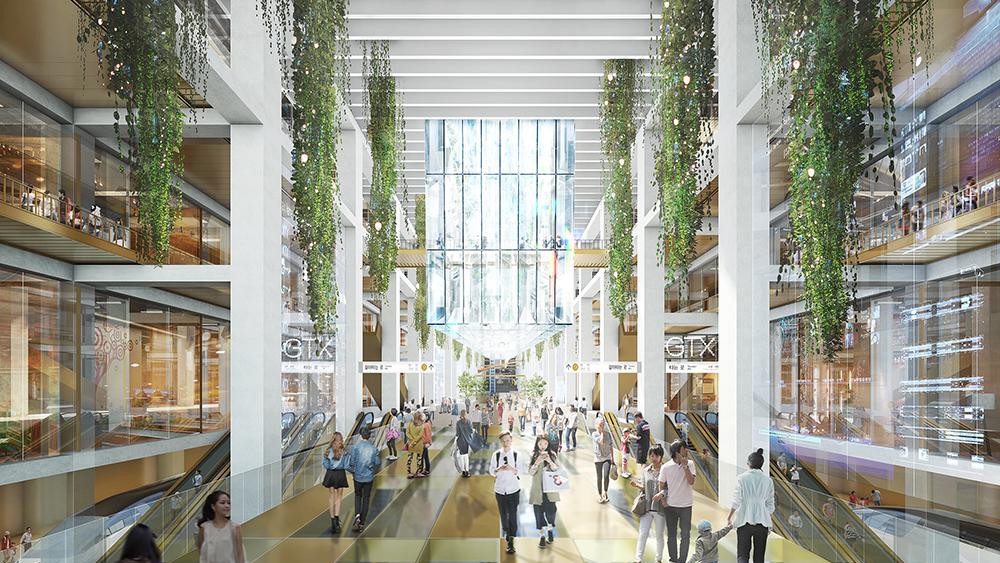 ---
---