Cool Modular Pavilion, a convivial response to extreme heat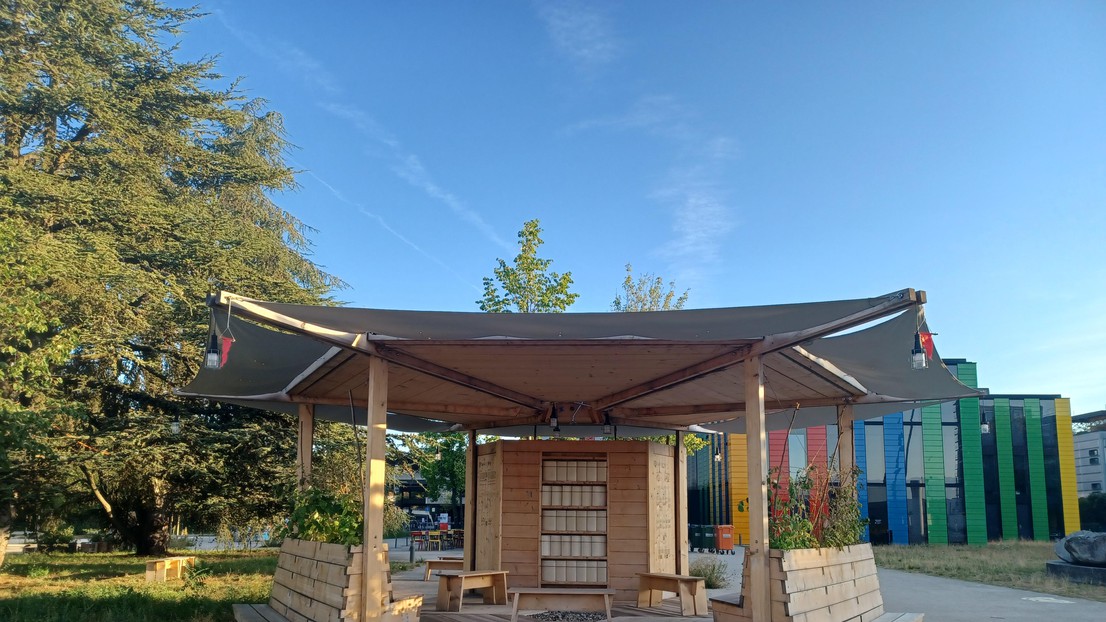 A mobile wooden construction has been installed for two months on the perimeter of the EPFL's Campus Piéton project. This microclimate demonstrator allows a didactic immersion in some solutions to fight against heat islands. With the advantage of offering a welcome space to meet outside.

After having been set up successively in several locations in downtown Fribourg, the Cool Modular Pavilion, designed by researchers from the HEIA-FR's ENERGY and TRANSFORM institutes, is venturing into the Vaud region from the end of August to mid-October 2022. This is one more step in the awareness tour started in 2021, which fits perfectly with the Campus Piéton project led by the EPFL Sustainability Unit. The goal is to give more space to human activities and respect for the environment on the currently paved part of the Ecublens campus.
At the corner of Route des Noyerettes and Avenue Piccard, in the heart of the area that will become pedestrianized by the end of 2024, the Cool Modular Pavilion offers several shaded seating areas. Members of the EPFL community have been quick to take advantage of it, whether during their lunch break, just a stone's throw from the foodtrucks, or to chat for a while in the open air, close to the neighboring offices and the Rolex Learning Center library.
Built in local wood with some elements in stone, canvas and ceramic, the climatic pavilion explains on pyrographic panels the techniques used to create its microclimate: shading, ventilation, vegetation, misting, recovery of night freshness and rainwater, among others. Do not hesitate to come and have a look at this life-size prototype, or simply to settle in for a moment of relaxation - sheltered from the sun or the rain.
Before it is dismantled again in mid-October, the Cool Modular Pavilion will be the venue for the prize-giving ceremony for the Campus Piéton contest, which calls on the EPFL community to suggest ideas for the design of ten locations within the project perimeter. It is still possible to participate until the end of September. Information will follow by email to all those who have submitted proposals.





---