Conference with Prof. Alexandra Midal - HEAD Genève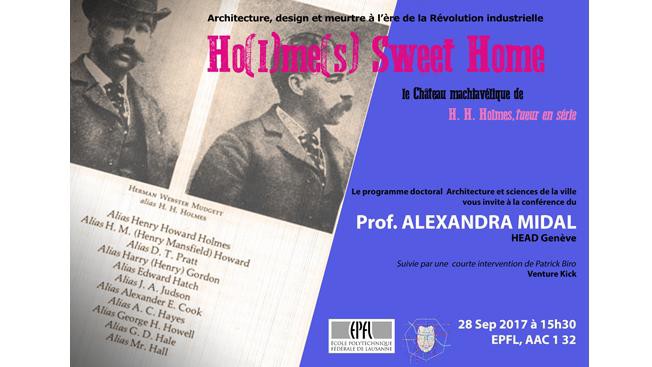 Le Prof. Vincent Kaufmann, directeur du Programme doctoral Architecture et sciences de la ville (EDAR) 
a le plaisir de vous inviter à la conférence de rentrée avec le Prof. Alexandra Midal - HEAD Genève.

Ho(l)me(s) Sweet Home : le Château machiavélique de H. H. Holmes, tueur en série
Architecture, design et meurtre à l'ère de la Révolution industrielle
À l'âge de à 38 ans, Henry Howard Holmes ; de son vrai nom Herman Webster Mudget, le premier tueur en série des Etats-Unis, l'auteur d'au moins vingt-sept crimes par strangulation, asphyxie, crémation, etc. emporte le secrets de ses meurtres. Et si certaines de ses vingt-sept victimes, à l'instar du gardien du château, Robert Latimer, se sont présentées par la suite à la justice, en chair et en os certificats à l'appui, notre tueur en série, escroc et menteur patenté auquel la presse impute des centaines de meurtres et disparitions a emporté pour toujours ses secrets dans sa tombe en ciment.
Au début des années 1870, H. H. Holmes édifie à Chicago une imposante bâtisse comprenant des centaines de pièces, d'appartements et de magasins. Ils sont dotés des technologies et inventions les plus récentes. Chef d'œuvre fonctionnel, le projet architectural de Holmes préfigure les lois du fonctionnalisme en réunissant et en dissimulant les innovations les plus avancées derrière sa façade.
Mais ne nous arrêtons pas à l'examen des meurtres de Holmes comme l'expression perverse d'une intelligence remarquable ou de pulsions pathologiques, regardons plutôt comment le cas Holmes s'inscrit dans une dynamique de rationalité et d'efficacité appliquée au vivant. Et cela, dans un mouvement qui se déploie à partir de Chicago, une ville en passe de s'imposer comme le centre urbain de la modernité.
Alexandra Midal
Independant curator and Professor Ordinaire in theory and design at HEAD – Geneva, Alexandra Midal combines a curating and research activity in design, architecture and visual culture.
Former Director of the Regional Founds of Contemporary Art of Haute-Normandie (FRAC), and former assistant of Dan Graham for public commissions, she has curated numerous shows in international museums:Popcorn, Art, design & Cinema, MAMC (Saint-Etienne); Tomorrow-Now Musée d'art Moderne (Luxembourg),Passe-muraille Musée d'art moderne (Paris), Politique-Fiction Cité du design (Saint-Etienne), Liberté Egalité FraternitéWolfsonian Museum (Miami), Eames & Hollywood ADAM (Luxembourg); Cry me a River Artist's Space (New York); etc. 
As the Director of the Design Project Room (Geneve) 2011-2014, Midal has curated a series of solo shows: Carlo Mollino; Marguerite Humeau; Auger-Loizeau; El Ultimo Gritto; Superstudio, etc.
She has published several books: Antidesign; Design, l'Anthologie;; Introduction à l'histoire du design,… catalogues:Eames & Hollywood; Politique-Fiction; etc. essays in international journals and museum catalogues for MoMA, MOCA, MNAM, Mudam, ARC, MAMCO, etc. Her next book Design by Accident: For a New History of Design is to be published by Sternberg Press (Fall 2017) as well as her next book about design and serial killing to be published this winter 2017.
She is running of a series of a new format of transmission and knowledge: the Abecedarium : Masquerade BallsPerez Art Musuem Miami (2016); Is Fashion Modern ? MoMA New York (2016), Abecedarium Musée des Arts décoratifs Paris (2015)
She is also the author of films of visual theory such as Hocus Pocus: Twilight in My Mind, Politique-Fiction, Villa Frankenstein ; Domestic Psycho. The films are touring in museums worldwide. A festival of design experimental film will take place this September at HEAD-Geneve.
---
---