Conference at the 10th anniversary of the Association Ecoparc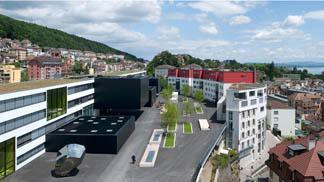 At an event organized to mark the 10th anniversary of the association Ecoparc in Neuchâtel, Prof. Emmanuel Rey of the Laboratory of Architecture and Sustainable Technologies (LAST) was invited to present the issues related to the integration of sustainability in urban and architectural projects.
The end of 2010 coincided with the 10th anniversary of the association Ecoparc, founded in Neuchâtel in the frame of the dynamics generated by the creation of the Federal Statistical Office and the sustainable neighborhood eponymous on the plateau of the train station. Among its founders were personalities from public authorities (including the FOS, the State and the City of Neuchâtel), academic institutions (including the University of Neuchâtel and EPFL) and private companies (including CFF and Bauart). This diversity of backgrounds still characterizes the organization, so much so in the frame of its committee as in the hundreds of members from Switzerland and neighboring countries.
The association's role is to facilitate the development of projects incorporating in a balanced way environmental responsibility, social solidarity and economic efficiency in the built environment and business management. In his speech entitled "Sustainable development of the built environment: from goals for action", Prof. Emmanuel Rey stressed the importance of innovative strategies to be able to deliver approaches that are by definition still pioneer.
More information on www.ecoparc.ch

---