CISBAT 2021 International Conference Call for Papers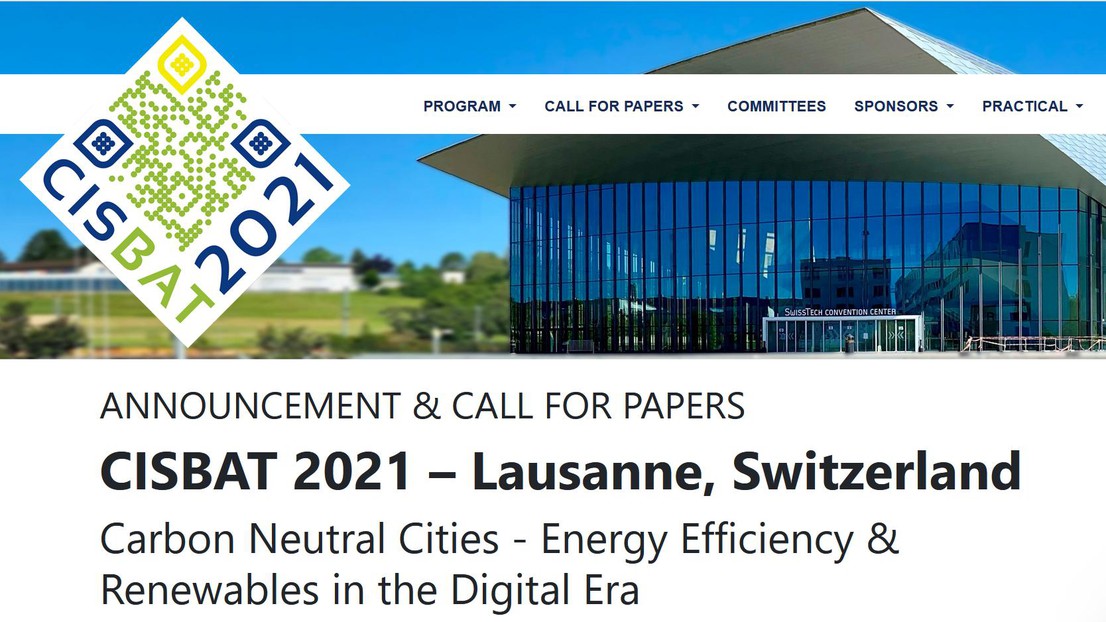 We are delighted to announce the 16th CISBAT Conference to take place at EPFL in Lausanne, Switzerland, from 8th to 10th September 2021, and to issue a call for scientific papers.

Focused on the energy transition in the built environment, CISBAT 2021 will unite scientists worldwide for a rich interdisciplinary exchange on research targeting energy efficiency and sustainability from nano to regional scale.
CISBAT 2021 invites contributions on research and technological development as well as on particularly innovative case studies in the following areas:
Smart materials for building envelopes
(micro- and nanotechnologies)
Climate resilient buildings
(ecobuildings, retrofit, performance gap)
Daylighting & electric lighting
(human centric & green lighting)
Human & building interaction
(user centered systems, health, behaviour)
Building simulation & ICT
(design, optimisation, analysis)
Renewables in the built environment
(electricity, heating and cooling)
Smart buildings & districts
(distributed energy systems, predictive & adaptive control, energy demand & supply)
Data mining for the built environment
(big data & machine learning)
Urban climate modelling
(microclimate, energy performance, regenerative design)
Innovative construction for circular economy
(LCA, recycling, design)
Abstracts of 450 to 600 words must be submitted by 15 January 2021 through www.cisbat.org .
Authors of accepted abstracts will be invited to submit a full paper to be published in a CISBAT 2021 special issue of IOP's Journal of Physics: Conference Series, an open access publication indexed by Scopus, ISI Web of Science, EI Compendex and others (CC BY licence).
Further information and details are available at www.cisbat.org.
The conference will allow both in-person and remote attendance and presentations.
To limit the environmental footprint of the conference, the organisers commit to offset the main CO2 emissions linked to the conference in cooperation with myclimate and to consider environmental concerns in all aspects of organisation.
Organisers & Academic partners
The conference is hosted by the EPFL Solar Energy and Building Physics Lab (LESO-PB) in academic partnership with
• Cambridge University, UK (Prof. Koen Steemers)
• Massachusetts Institute of Technology, USA (Prof. Leon Glicksman)
• Swiss Chapter International Building Performance Simulation Association IBPSA.
Funding
CISBAT 2021 is co-funded by the Swiss Federal Office of Energy (SFOE) and EPFL.
---
---