Christoph Hollenstein receives the Innovation Award from the EPS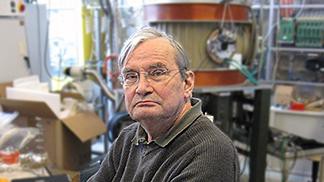 The Plasma Physics Division of the European Physical Society (EPS) has attributed the 2014 Innovation Award to Dr Ch. Hollenstein for his instrumental contributions to the field of Plasma Processes in Industry and for his strong impact in spin-off activities of fusion R&D.

The Innovation award is given to researchers who have clearly developed innovative applications.
After several years dedicated to research in the field of fusion, Ch Hollenstein created and headed the 'Plasma Processes' group of the CRPP. He conducted a series of projects which have in common the use of plasmas as a means of depositing thin films on various substrates. He has, for instance, developed large plasmas that are used in the manufacture of photovoltaic panels or flat displays. He also worked for the watchmaking industry by developing a method for modifying the color of the ceramic components. In addition, he led the development of plasma torches, and analyzed arcing in spacecraft equipments.
These developments have been made in close collaboration with industry and are now commercially exploited.
The prize attributed to Ch. Hollenstein also rewards a person with an extensive knowledge of plasma physics and with multiple skills in the technologies based on the use of plasmas.

---