Anastasia Ailamaki wins ACM SIGMOD innovation award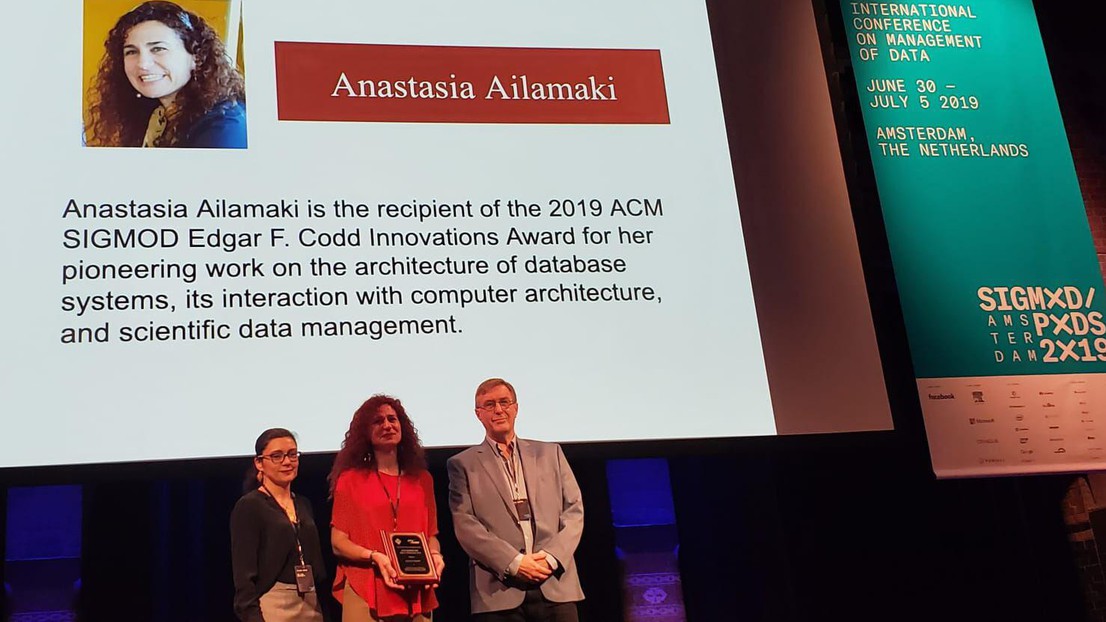 Anastasia Ailamaki, head of the EPFL School of Computer and Communication Sciences (IC) Data-Intensive Applications and Systems Laboratory (DIAS) has received the 2019 ACM SIGMOD Edgar F. Codd Innovations Award.

ACM SIGMOD is the Association for Computing Machinery's Special Interest Group on Management of Data. The Edgar F. Codd Innovations Award is given annually to reward "innovative and highly significant contributions of enduring value to the development, understanding, or use of database systems and databases". Professor Ailamaki was selected by the award committee for her "pioneering work on the architecture of database systems, its interaction with computer architecture, and scientific data management".

Past winners of the prize, which is the highest honor in database management, include the most influential scientists in the field. Ailamaki's award was presented during the 2019 edition of the prestigious ACM SIGMOD conference in Amsterdam, which ran from June 30 to July 5. Ailamaki also served as program chair for the conference, which is the top venue for industrial and academic research in data management.
The DIAS lab develops database and data management technologies that can efficiently process increasingly large amounts of data. The lab's research has won several internationally acclaimed prizes, including ten best-paper awards at top conferences in the field. Earlier this year, Ailamaki was also named co-recipient of the 2019 Extending Database Technology (EDBT) Test-of-Time award for the lasting impact of Shore-MT, the first open-source multi-threaded scalable storage manager, which she and her team developed and published in 2009.
---
---