A scientist with her head in the clouds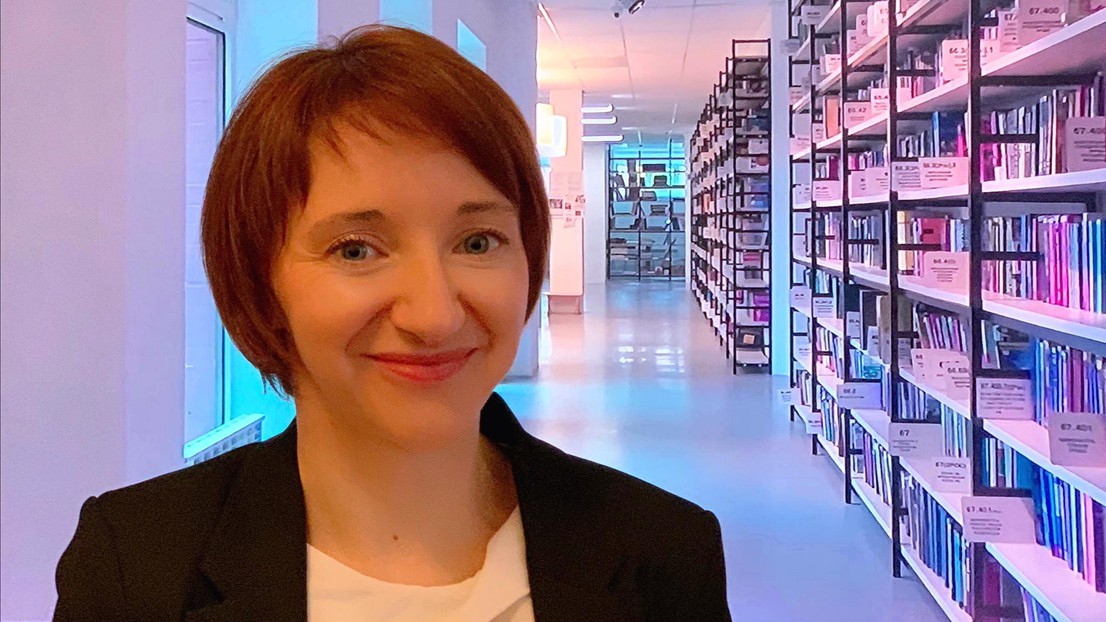 Mária Lbadaoui-Darvas, a scientist at EPFL's Laboratory of Atmospheric Processes and their Impacts, has been awarded a grant from the Swiss National Science Foundation. Her research involves developing a new method for observing and modeling cloud droplet formation – a study that could increase the accuracy of climate predictions.

Although less understood in the way they affect climate compared to CO2, aerosols – fine particles suspended in the air – nevertheless fundamentally contribute to climate change. While microscopic, they span a wide range of size and compositions, and vary considerably over space and time. They may occur naturally, from sources like sea spray, desert dust, plant emissions or forest fires, or they can be the result of human activity such as agriculture, transportation, biomass burning and industry.
Aerosols contribute to cloud formation by promoting the formation of cloud droplets and ice crystals, through the action of building up atmospheric water molecules on their surfaces. They play a pivotal role in transforming the water vapor into cloud droplets or ice particles; without aerosol particles, Earth would be virtually cloud-free. 
By changing how much of the Sun's energy reaches the Earth's surface, and also regulating how much of Earth's heat escapes to outer space, aerosols and their impact on cloud droplets and ice crystals are pivotal in shaping our climate. However, despite decades of research, the exact mechanisms responsible for forming droplets and ice on particles remains poorly understood, and this hinders the ability to correctly represent their effects in climate models. Indeed aerosols and aerosol cloud interactions are identified as the key source of uncertainty in predictions of anthropogenic climate change.
At EPFL's Laboratory of Atmospheric Processes and their Impacts (LAPI) Mária Lbadaoui-Darvas is working to gain molecular-level understanding of how aerosols interact with water during the formation of droplets and ice crystals.
"This is hugely important because it represents a main source of uncertainty in climate models. Improving our knowledge of this phenomenon will enhance the credibility of predictions, which is of enormous significance today," she says.
Only by gaining a thorough understanding of key physical processes that regulate our climate can we formulate the most reliable predictions possible regarding our planet's future.
Too fast to measure
Heterogeneous nucleation of water vapor, that is the formation of water droplets or ice on the surface of aerosol particles, is one of the least understood of all aerosol processes. Challenges in this field are numerous. The wide variety of aerosols and chemical compounds which can condense droplets and ice crystals on their surfaces makes it virtually impossible for scientists to establish a single heterogeneous nucleation model. Moreover, real-time observation of nucleation is currently not feasible because it happens too quickly and on too small a scale. Simulation is the only tool available to probe these scales.
Mária Lbadaoui-Darvas's approach involves a new method for observing and modeling nucleation – one that differs considerably from approaches derived from classical nucleation theory (CNT). "CNT is a good start and the established way for describing certain nucleation processes, but not when aerosols are involved. This is because CNT assumes that water vapor is suddenly transformed into droplets, but does not consider all the intermediate stages that involve the intraction of water vapor with aerosol surfaces. Our goal is to overcome this limitation and reshape the theory." The project is part of an international collaboration.
Molecular dynamics
Her work has received a CHF 95,000 grant from the Swiss National Science Foundation's Spark program, which supports the development of new scientific ideas and methods that "show unconventional thinking and introduce a unique approach." She now has 12 months to demonstrate her idea's feasibility. 
Mária Lbadaoui-Darvas' research draws on molecular dynamics – a state-of-the-art computational method for modeling how a particle system changes over time. Such modeling can generate extremely high-resolution videos that tracks the motion of every molecule of water present, which, when combined with statistics, could provide data from which a generalized description of heterogeneous nucleation can emerge. This in turn can be included in climate models, and may improve researchers' understanding of climate change. "If these new theories are able to decrease the level uncertainty in climate predictions, that could help people understand how critical the situation is and why we need immediate, large-scale action to reduce global warming," she says.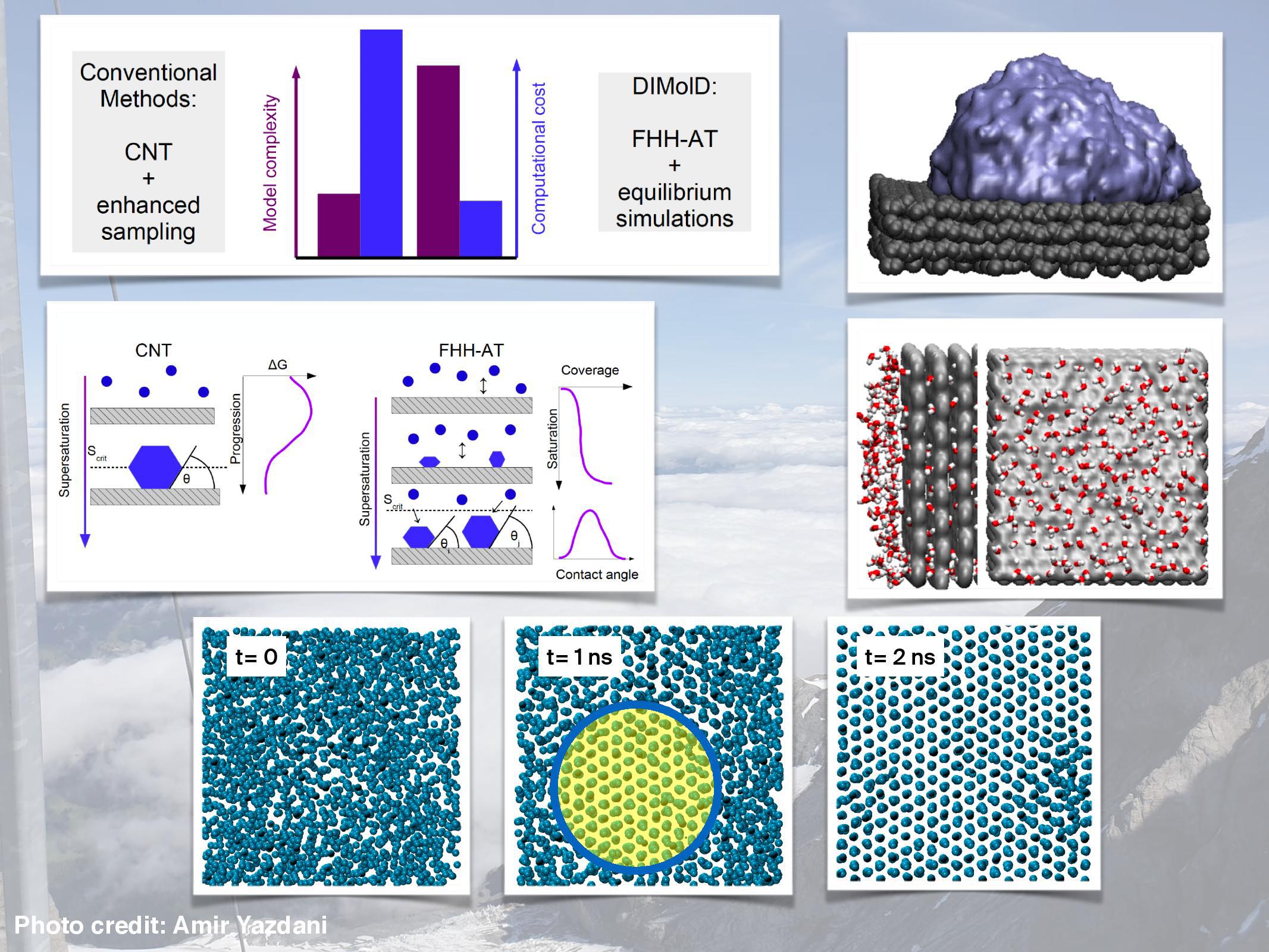 Funding
The aim of SNF's Spark is to fund the rapid testing or development of new scientific approaches, methods, theories, standards, ideas for application, etc. It is designed for projects that show unconventional thinking and introduce a unique approach. The focus is on promising ideas of high originality, with minimal reliance on preliminary data. Taking risks is very welcome, but not a requirement in itself. The focus is on projects or ideas that are unlikely to be funded under other funding schemes.
The proposals are evaluated in a double-blind reviewing process (i.e. the identity of the applicant will not be disclosed to the evaluators). In this way, the SNSF aims to ensure that the evaluation will focus on the project idea. 
---
---