8th Annual Deloitte OES Prize for Improving Restaurant in Morges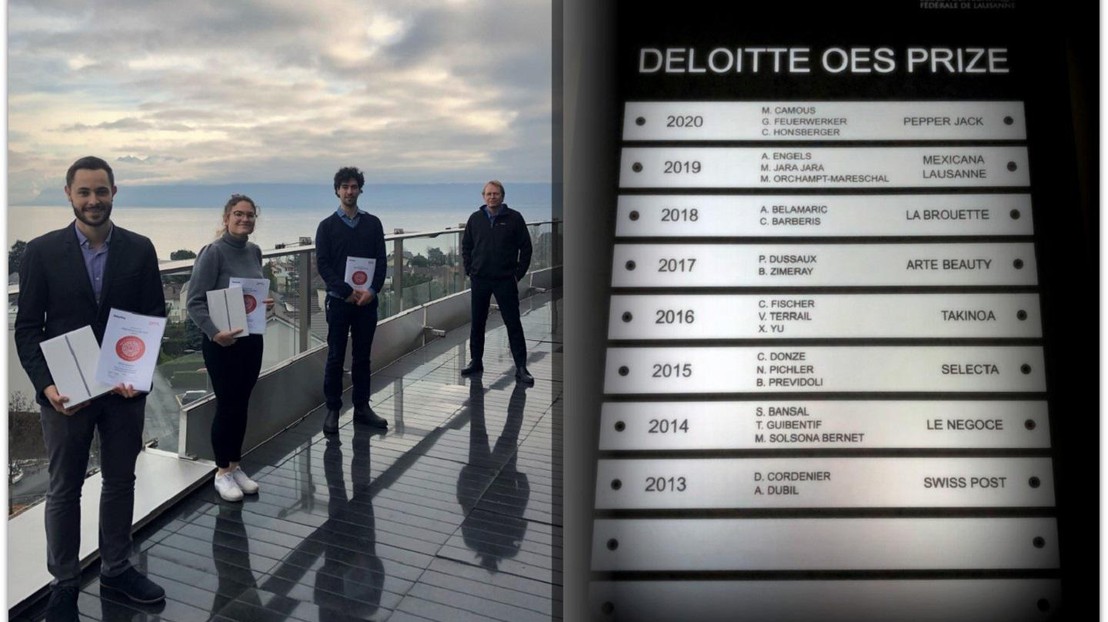 The 2020 Deloitte OES Prize for the best student project in Prof. Weber's graduate course "Operations: Economics and Strategy" was awarded to Manon CAMOUS, Gabriel FEUERWERKER, and Clément HONSBERGER. The Deloitte OES Prize competition, which involves finding operational improvements in local businesses, has been held each year since 2013. The 2020 edition represents the 8th year of uninterrupted cooperation between Deloitte and the EPFL Chair of Operations, Economics and Strategy.

The winning team's project report, entitled "Driving Pepper Jack through the Coronavirus Crisis and Beyond" starts off with a survey-based demand analysis, followed by a queuing model to gauge the potential of shifts between peak and off-peak service, and is concluded by a detailed cost analysis of delivery options—especially relevant during the current Corona pandemic. The team provided high-resolution recommendations for a loyalty scheme, as well as for happy-hour discounts to smooth demand. The students also provided a complete financial analysis for adding a home-delivery channel to the small restaurant's portfolio. 
The first runner-up project for the Deloitte OES Prize was "Cocooning Nature SA: Aligning Service Level with Brand Image," by Astrid Cros and Achille Hespel. The team analyzed the consumers' queuing behavior for sandwiches at a well-known EPFL cafeteria and suggested adjustments in pricing and facility layout to increase throughput and overall profitability. The second runner-up was a study by Andrey Batasov, Laurence Bongrain, and Sarah Mazzone, of "The Door," an escape room located in Lausanne. After performing a demand analysis, the team investigated various pricing options, and suggested upgrades to the company's booking system, as well as a fidelity program to improve customer retention.
A total of 18 teams participated in the Deloitte OES Prize competition, making it the largest number of competitors so far. The main objective was to identify potential operational improvements in regional Swiss (or possibly international) companies. In addition to those already named, the projects included staff scheduling and cost optimization for Les Arches (an outdoor bar in Lausanne); inventory management and delivery-area optimization for Madame Sum (a "dark kitchen" producing flash frozen dumplings); product portfolio analysis and inventory optimization for Al Sacco (a trendy restaurant in Lausanne); an oversight strategy to achieve the new sustainability and affordability objectives for Catering at EPFL (as part of the central EPFL administration); inventory management, delivery and Covid adaptation for Le Central (a stylish restaurant in Lausanne); pricing, bag mixing, and sales strategy for Tea DC (a Swiss online retailer); product-portfolio analysis and capacity management for Hotel du Crêt (a full-service auto stop in the Tessin region of Switzerland); inventory and price optimization for Sucré Salé (a sandwich store in Lausanne); third-degree price discrimination, inventory management, and an ordering-process optimization for EpiLibre (a mobile popup store at EPFL); stock management and product-flow analysis for Deppeler S.A. (a medium-sized Swiss manufacturer of dental equipment); demand analysis, pricing, and inventory management for the minibar at the Lausanne-Ville handball club; business strategy and inventory management for Girod Médias (a media house and billboard rental company in Morbier, France); bike delivery optimization and supply-chain strategy for Terre Vaudoise (a seller of fresh produce located in Lausanne); stochastic demand modeling, product portfolio analysis, and inventory management for Ras Beyrouth (a Lebanese restaurant in Lausanne); and, a demand analysis, product portfolio optimization, and inventory management for La Perle Bleue (a family-owned pharmacy based in Casablana, Morocco).
This year's jury was composed of Aakash Deep, Director with Deloitte and head of their Digital Supply Chain initiative in Switzerland; Dr. Xavier Tinguely, Manager with Deloitte; Quentin Le Guennec, Senior Consultant with Deloitte; and Prof. Thomas Weber. The members of the prize jury read the written reports, and evaluated them on a grid of criteria, including "business concept" (identification of relevant needs and the use of a quantitative model), "business case" (expected benefits, implementation costs, and change-management considerations), and "quality/professionalism" (quality of report and presentation). All jury members were also present at the team presentations on December 9. In addition to students and jury, Hélène Ryter, the manager of Les Arches, Julie Allémann, co-founder of EpiLibre, Alexei Konovalov, owner of The Door, and Caroline Leopold-Metzger, CEO of Deppeler SA, attended the event and commented on their collaboration with the student teams and the expected impact of the findings on their businesses.
The members of the winning team each received an Apple iPad, sponsored by Deloitte, as first prize. Deloitte, which has six offices in Switzerland, was involved with Prof. Weber's course throughout the fall, and the prize competition was coordinated by Quentin Le Guennec. On the EPFL side, the prize competition was supported by the OES chair secretary Ilona Ball. The course assistants this year were Dorsa Abdolhamidi and Jun Han.
The year 2020 marks the eighth edition of the Deloitte OES Prize. Past winners, all engraved on a permanent winner board, are:
2019: Andres ENGELS / Máximo JARA JARA / Maina ORCHAMPT-MARESCHAL
("Demand, Inventory and Information Management at Mexicana Lausanne")
2018: Alizée BELAMARIC / Clément BARBERIS
("Product Portfolio Rationalization, Ordering Process Optimization and Information Management at La Brouette")
2017: Pierre DUSSAUX / Benjamin ZIMERAY
("Arte Beauty & Wellness: Leveraging Wasted Capacity through IT Solutions")
2016: Céline FISCHER / Valentin TERRAIL / Xiaoran YU
("Takinoa Restaurant at the Rolex Learning Center: Operations and Demand Analysis")
2015: Christophe DONZÉ, Niels PICHLER, Benjamin PREVIDOLI
("Selecta on the EPFL Campus")
2014: Shubham BANSAL, Thomas GUIBENTIF, Marc SOLSONA BERNET
("Le Négoce: Survival Under Extreme Conditions") 
2013: Dimitri CORDENIER, Alexis DUBIL
("GeoRoute at PostLogistics")
---
---